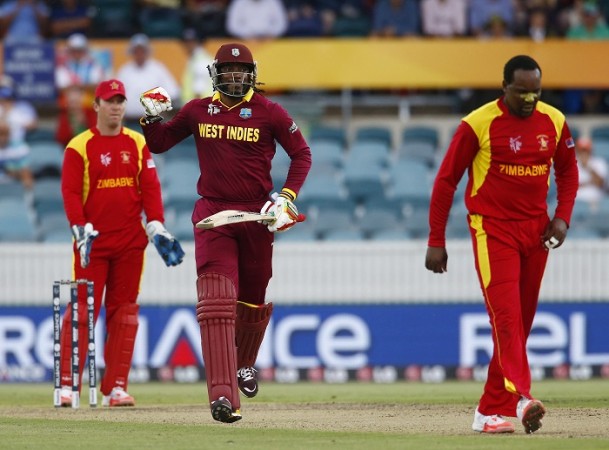 Chris Gayle mercilessly smashed the Zimbabwe bowlers out of the park as West Indies zoomed to a huge total in their ICC World Cup 2015 Pool B match in Canberra.
Gayle was at his absolute best, firing 215 in just 147 balls with 10 fours and 16 sixes as West Indies posted a near-unassailable 372 for two in their 50 overs.
While Gayle will take all the plaudits, Marlon Samuels also hit a century of his own with the duo putting on the entire 372 runs together – a world record partnership in ODI cricket.
"People on Twitter have been asking me, expecting me to score a double hundred in ODI cricket, especially after Rohit, twice, and Sehwag have done it, so I'm happy to finally get there," said an exhausted-looking Gayle after the first innings.
"I'm getting a bit of cramps, feeling a bit tired, but we still have 50 overs to get through.
"I just want to thank god for this knock. I was under pressure to score runs, and I kept getting messages from Twitter. I was overwhelmed by the support but I have also never felt this kind pressure, and in the end, I am sure I gave everyone something to talk about."
Gayle was not his marauding best at the beginning, but once he hit his groove, there was no stopping the left-hander as the Zimbabwe bowlers found out much to their dismay.
"The pitch was a bit slow at the start, and it was also keeping low. I just tried to take the bull by the horns and hang in there as much as I can and try and build an innings. It got easier to take the singles once the fielders were deep, and then after a while I was able to pick a bowler to target and then, in the end, I was out off the last ball."
Zimbabwe would have hoped Gayle could have been off his first ball with a close lbw decision going the West Indies batsman's way, and what a major decision that proved to be in the final scheme of things as Gayleforce hit the Manuka Oval.
You can also watch the entire highlights of the unbelievable double hundred from Gayle HERE or HERE.