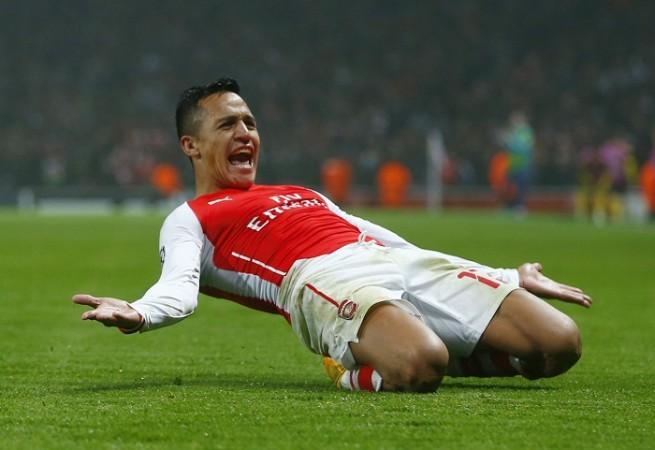 Arsenal put up an emphatic performance against Stoke City, as they defeated the Potters 3-0 at the Emirates.
Alexis Sanchez looked bright right from the outset, after the former Barcelona player scored a brace to help the team climb up to the fifth position in the English Premier League standings with 36 points.
The Gunners looked too strong for Stoke City, who were evidently outclassed. Possession wise, it was the Gunners who kept a major share of the ball, playing an entertaining brand of football.
Arsenal had 14 shots on goal, while Stoke also had 7 shots on goal, but it was the former who were very clinical in front of goal.
Arsenal started the game brightly with Laurent Koscielny scoring in the sixth minute of the game. Ever since the goal, it was an uphill battle for the Potters.
Stoke City's goalkeeper, Asmir Begovic looked busy , as he made some top saves in the first 20 minutes of the game itself, where he even denied the Chilean forward Sanchez.
But, the class in the player was too much for Begovic as the player scored a beautiful goal in the 33rd minute of the game, where he beat Begovic near post with a superb finish.
The game already looked done and dusted with Arsenal scoring their second of the game and dominating there on.
Arsenal started the second half in the same fashion as first with Sanchez scoring his second and the team's third in the 49th minute of the game.
The game was all about Sanchez, who put up an awesome display after some unimpressive performances of late. He was a confident player against the Potters as he tried an audacious chip in the 75th minute of the game as well, which nearly paid off with the goalkeeper off his line.
Despite some skilful display by Stoke's Bojan Krkic, the Potters were not able to find the back of the net even once. Bojan looked one of the brightest player for the Potters.
Stoke did not trouble Arsenal's goalie, David Ospina as it only had two shots on target during the game.
Arsenal needed this victory to up their confidence after their loss last week against Southampton.
Apart from Sanchez's performance, the game also marked the return of Mesut Ozil from injury, which is a big boost for the Gunners, as they are scheduled to play a huge game against Manchester City next week.