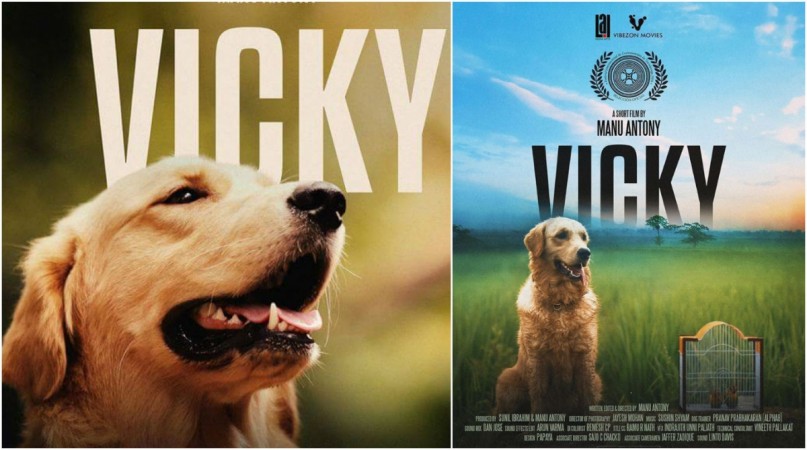 A 10-minute-long short film "Vicky" has become the talk of the social media. Written, directed and edited by Manu Antony, it has been garnering tremendous response from audience and celebrities.
"Vicky" stars a well trained Golden Retriever in the lead role, who teaches us that "there is no such thing as part freedom." The short film, which was released on Independence Day, Aug. 15, makes us aware that not just human beings, even animals must be given freedom. Without any dialogues, the emotions of the dog are well captured in the movie, which has been now being tagged as one of the must watch short films.
Also watch: Kanunnundo Pappa short film
Celebrities including Vineeth Sreenivasan, Major Ravi, Rima Kallingal, Jayasurya, Aju Varghese, Rachana Narayanankutty, Miya, Sunny Wayn and Joju George, among many others have praised the team of "Vicky" for coming forward with this beautiful short film. "What an amazing short film!! Manu Antony knows what he is doing.Jayesh Mohan, Sushin Shyam Tdt and the rest of the team.. RESPECT!! those who haven't, pls watch this one [sic]," Vineeth wrote on his social media page while sharing the video.
Sunil Ibrahim and Manu have produced the short film, for which camera has been cranked by Jayesh Mohan and "Kisa Pathiyil" fame Sushin Shyam has composed its music.
Check out what other celebs have to say about "Vicky" here:
Major Ravi
Watched a beautiful short film "Vicky".
You could see the play of emotions in an eye blink,a tail swing and even at the glance of Vicky, the dog who played the lead role in this movie.Hats off to the director Manu Antony who made this all to a success by precisely handling the technical sides! Salute for showing how even we can learn love from animals. Congrats to the entire team and all the best. I can even feel a national award for this film. God bless!!
Aju Varghese
One of the best short films ever made, not jus in Kerala or India. Vicky by Manu Antony :)
Rima Kallingal
So much is said without saying:)
Rachana Narayanankutty
There is no such thing as part freedom...‪#‎Vicky‬....Must watch one..
Miya
Vicky..brilliant work ‪#‎manuAntony‬ must watch one!!!!
Sunny Wayne
Superb film with a great message! Way to go Manu Antony!
Joju George
Superb.....congrats Team VICKY
Vinaayak Sasikumar
Manu Antony.. wow :) This is the best thing you could have possibly shot with a dog. All the movies I had ever seen with a dog protagonist had to tell me the same thing always - how a dog is connected to a man. This superseded my expectations as it wasn't the same dog-man love story. This was completely different. Although I could predict what was coming, it was shot in a very nice way that it didn't affect me that much. And Independence day is possibly the best day you could have released it too. Good thought...Good short film. 10 minutes well spent :)A Sushin Shyam Tdt musical as well :)
Deepak Parambol
Ee pattiyude abhinayam kandu padikkedaa chekkaaa...... Ennu paranjalum njan njettulaaa :) enthoru actingaaa.... Polichu (y)
Watch the short film "Vicky" here: