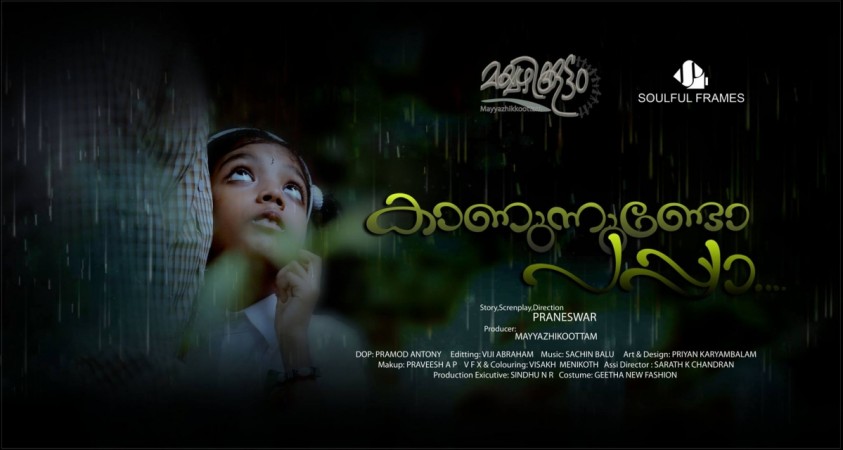 The 13-minute Malayalam short film "Kanunnundo Pappa", which released on August 7, has been garnering positive response from audience and critics. The directorial venture of Sajeevan Thalassery Praneshwar narrates the story of a young girl upset with her father's visual impairment and aims to create awareness about organ donation.
Produced under the banner of Mayyazhikoottam in association with Soulful Frames, it stars child artiste Devananda in the lead role. Priyaraj Govindraj, who works as the station head of Club FM Thrissur also plays a pivotal role.
"Kanunnundo Pappa" has received positive response from filmmaker Lal Jose and musician Bijibal, among many others.
"We faced many hurdles while making this film. Without hiring anyone, we handled the art department by doing the interior and exterior works of the house used for shooting. When the shooting was about to start, we did not even have Rs. 4,000 cash. We never expected the film to receive such a tremendous response from audience," Sajeevan told International Business Times India.
The film's music has been composed by Sachin Balu, who has now become a sensation among the Kerala audience for his hit song "Kisa Pathiyil" from Malayalam movie "Kismath". While Pramod Antony has cranked the camera, Viji Abraham has edited the short film, which has been viewed over 1,000 times on Soulful Frames' YouTube page, at the time of reporting.
Watch the short film here:
Here's what Lal Jose and Bijibal have to say about "Kanunnundo Pappa":
-