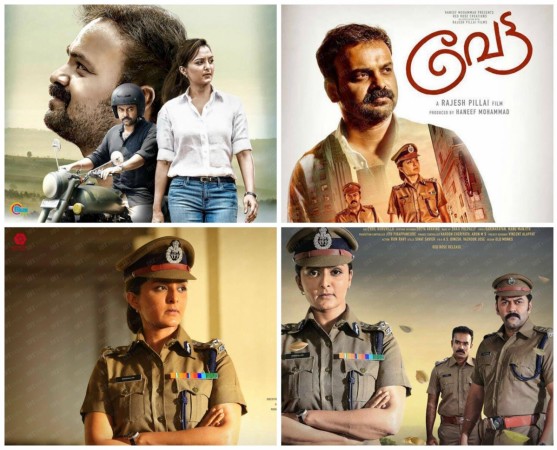 The Malayalam movie "Vettah" was released Friday, Feb. 26 throughout India. The film, starring Manju Warrier, Kunchacko Boban and Indrajith Sukumaran, is one of the most anticipated flims of the year as it has been directed by Rajesh Pillai of "Traffic" and "Mili" fame.
"Vettah," touted as a psychological thriller, has been called by Boban, better known as Chackochan, one of the most thrilling suspense movies in South Indian cinema. It is a mind game revolving around three people. Manju plays Sreebala IPS, the first police avatar of the actress in her career, along with Indrajith, who will be seen as ACP Sailex Abraham. Kunchacko's character Melvin is said to be a mysterious one.
Rajesh Pillai dead: Confusion over conflicting reports ends, news finally confirmed
Read Vettah Review
The movie marks the comeback of Kunchacko and Manju after the blockbuster Rosshan Andrews' movie "How Old Are You" (2014) and this is the first film Manju and Indrajith will be sharing the screenspace together.
"Vettah" has been scripted by Arunlal Ramachandran, Anish Lal R has handled the cinematography and it has been produced by Haneef Mohammad under the banner Red Rose Creations in association with Rajesh Pillai Films. Expectations are sky high from the movie as Rajesh has proved his mettle with hit movies like "Traffic" and "Mili." Whether "Vettah" repeats that success is something we need to wait and see.
Check 5 reasons to watch Vettah
Check out live audience response on "Vettah" here:
Anand Jayakrishnan
Happened to see ‪#‎Vetta‬..one of the finest thrillers ever made in malayalam...Once again screenplay and direction is the king!!!‪#‎Kunchacko‬ delivered his carrer best performance as Melvin phillip....Manju warrier and‪#‎Indrajith‬ was rocking...Undoubtedly the best in malayalam after ‪#‎memories‬ and‪#‎drishyam‬ ..simply brilliant.
Tail end: Glad to see ‪#‎judeantonyjoseph‬ who once said ‪#‎Manjuwarrier‬ need to seriously improv her acting skills in a cameo..God do exists!!!!!
Aravind Venugopal
#Vettah is slow but won't make you yawn. Its complicated but not confusing. Its enjoyable and watchable.
Rohit R Pillai
Vettah is not an edge of the seat thriller...But there is so much going for this compelling, slow-burning, well-acted tale that you can barely take your eye off the screen. Vettah relies far more on the complexities of psychological drama than on the usual sudden impact of big suspenses... Congrats Rajesh Raman Pillai sir for this engaging cinematic experience & ur team deserves a standing ovation... Especially that screenplay... The casting is apt. Kunchakko Boban, Indrajith and Manju Warrier – they handle the three pivotal roles – the director extracts gestures that ring true, lines that sound real and they just ruled the movie...& Chakkochan surprised me with one of his ever best performances... Can be called as his career best in fact... So, Vettah is a restrained, slow paced and a mind game shot at a genre that is not a usual format for Malayalam cinema. This one is a well scripted & executed cinematic delight that deserves a sustained run in the theatres... "Life is a hunt & it's we who choose whether to hunt or to be hunted..." Don't miss it...
Sujith ‏
Vettah Superb Thriller. New Hit in Town. Good Script, BGM & Direction. Unpredictable Climax twist. 2016 Best movie.
Fai Zee
Watched ‪#‎Vettah‬ Malayalam Movie
‪#‎Simply_SuperbMovie‬...
Brilliant execution of a mind game kind of story...
Outstanding scripting & the movie will make u clap at the end for sure...!!!!
Rating 4/5 ...
ANOOP A.
Above average first half and a normal second half makes #Vettah a watchable movie 3/5. #ManjuWarrier #MalayalamMovies.
CV Sanjay
‪#‎Vettah‬ : * kidu sycho mindgame thriller ...
awsome script ‪#‎arunlal‬ kudoz
perfect direction ‪#‎rajeshpillai‬. pwoli awsome thrilling climaxx
‪#‎manjuwarrier‬ ‪#‎indrajith‬ kudoz
n ‪#‎kunjackoboban‬ ‪#‎ithinkcarrerbest‬
chackochaaa.
Ajmal Esmail
#Vettah It's a perfect thriller with some emotional aspects. #Rajeevpillai's 3rd hit is on card... @iManjuwarrier @rajeshtraffic. A man's genuine revenge carryout with some other people. #Arunlal's script was neat and faultless...#KunchackoBoban's career best performance, #Shanrahman's Bgm, #Anishlal's will be appreciated...
Saransh
Just back after FDFS of 'Vettah'. Dont want to divulge too much about a movie which is a out and out no nonsense psychological thriller. Just a few thoughts. A decent psychological thriller from Rajesh Raman Pillai. 'Vettah' as the name suggests is a hunt for the truth told through several stories of deceit, a premise that has been touched upon in most new gen thrillers. Highly confusing (in a positive sense) for a better part of its run, the confusing puzzles that Vettah throws up at the audience, the pieces are put in order in the last half an hour or so. 'Vettah' succeeds in keeping you guessing all through till the finish line. Kunchacko Boban as Melvin, just about reaffirms what a brilliant acting material he is when placed in the right roles and moulded by the best of filmmakers. There are those moments in the film in which, he steps up the mystery in the plot through mere expressions. Manju Warrier pulls off her first ever cop role quite convincingly, so does Indrajith, though both have pretty much nothing extraordinary to perform out there. There is nothing more to write home about if you are one going in with high expectations. Personal Opinion : I found 'Vettah' an above average slow paced thriller, since I went in with no preconceived notions or information.

Not highly recommended for the common audience and not a must watch.
For those who have a taste for the thriller genre, no harm in giving 'Vettah' a try.
Another suggestion is to not go in with family or as a couple, not because of 'adult content', but its not really the happy watching experience designed for a family outing.
Akhil Mohan
Watched ' vettah'. The film comes wt a tagline of first mind game movie..Manju warrier's first cop avathar, Rajesh pilai after 'mili'.. these factors increased my expectations..bt the film disappointed me. Rather than a thriller, the film travels through emotions of the investigating officers. Sometimes it is too boring. Kunchakko Boban got a different role and he done a good job. The only positive element what I felt in the film was the BGM by shan Rahman. Not highly recommended for the common audience and not a must watch. For those who have a taste for the thriller genre and a good patience level, no harm in giving 'Vettah' a try.
Vyshak Vyshu
‪#‎Vettah‬ "Mind" blowing ❤
Ellarum thakarthu
Especially ‪#‎Chackochan‬ Excellent Performance ❤
Praveen Nair

Slow mood brilliant thriller.
Malayalam Review
#Vettah Superb First Half. Little Bit Slow But Engaging. Kunchako Boban Rocked. Interesting ScreenPlay & Direction. Awesome BGM's. Slow Paced Thriller Good Script & Superb Direction Chackochan's Career Best Role - What a Perfo Bgm By @shaanrahman
Urfriendvinu Itv
Vettah. Loopholes adachu kondu onnum baakkivekkaathe superb aayi paranju poyi. Narration slow and oru English movie style aanu. Chackochan show all the way. Flashback episode ezhuthiyavante creativity. Manju & Indran too good. Camera work anyaayam. BGM SIMPLE BUT HAUNTING. Best dialogue"Sir Daivadoothane kandittundo? Njan kandittundu, thottittundu, da ithupole"