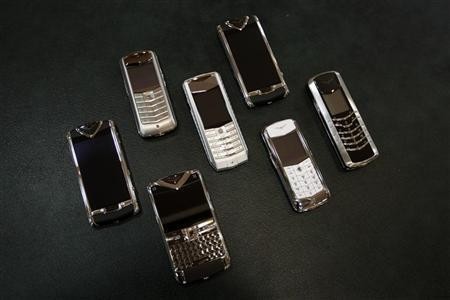 British-based manufacturer and luxury mobile phone retailer Vertu presented its first mono-brand store in India in New Delhi on Wednesday.
Vertu, a co venture of Nokia and EQT VI, was part of the Indian luxury product market since 2005 and the company had made sales through several luxury dealers across the country. Vertu has its presence felt in over 66 countries through dedicated boutiques. The company now aims to open showrooms in other Indian cities like Bangalore, Mumbai and Hyderabad.
"There is a huge growth opportunity here. People in India today are well travelled, they appreciate luxury products. We want to tap that potential," Vertu President Perry Oosting who was in the country for the opening of the store told Press Trust of India.
"We currently have 19 points of sale in India, but now we plan to open mono-brand stores in Mumbai, Hyderabad and Bangalore, after Delhi," Oosting added.
The company also rolled out its ultra luxurious smartphone Constellation Smile at ₹2.96 lakh in India. Constellation Smile is a Nokia C7 Symbian smartphone that is embedded with semi precious stones and a metal shell. It sports a 3.5-inch HD AMOLED display with sapphire crystal coating and packs an 8-megapixel camera. The device will be available in Coral Red, Coral Blue, Pebble Grey and Anemone Purple colour versions.
With its flagship store in the country, Vertu is seeking to make use of the application development market for creating high-end apps for its profiled clients. According to Oosting, the company is already in talks with many Indian software firms which seem to have the potential to become part of its market.
"We are in contact with some software companies, mostly in Bangalore," said Oosting according to the Economic Times.
Founded in 1998, Vertu was solely owned by the Finnish mobile-phone manufacturer Nokia till 2012 June. Nokia sold 90 percent of the company's equity share to private group EQT VI in June. In the Asia region, Vertu has its stores in Singapore, Kuala Lumpur, Sydney, China, Hong Kong, Taiwan, and Vietnam.
India's current contribution to the Vertu's sales volume is limited to single digits. The company is expecting its revenue to touch a double digit number in the future.
"India's contribution to our revenues is currently in the single digit. We believe there is potential to grow this to double digits," Oosting cited.