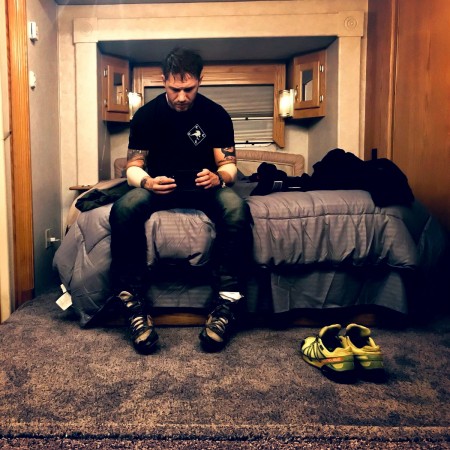 Every comic book fan is going crazy over Tom Hardy's upcoming movie Venom. As it is earlier reported that the movie production is underway, set photos have already started emerging on various social media sites while some of them have been posted by the official Twitter account of the movie.
Also read: Venom movie cast update: Tom Hardy starrer has a Veep actor on board
Likewise, a Tom Hardy fan account on Instagram recently leaked a couple of behind-the-scenes pictures from the sets of Sony's Venom movie. Among those, one photo teases Tom Hardy's character Agent Venom.
The photo shows the actor wearing military-style gear, although the picture does not show his face. It also indicates a dark outfit with a strap across the chest and his bandaged left shoulder.
Check out the photos below.
With director Ruben Fleischer on board, Tom Hardy's Venom will have a face-off with Cletus Kasady aka Carnage. Although it is a Spider-Man spin-off movie, still the Marvel superhero (who is the enemy of Venom symbiote) will not appear in it, as confirmed by Sony Studio earlier.
Tom Hardy will be joined by the likes of Riz Ahmed, Reid Scott and Scott Haze. Venom movie will be released in theatres on October 5, 2018.
The Venom symbiote has already appeared in many Spider-Man comics since its inception in 1988. Since then, Eddie Brock aka Venom has appeared alongside Spider-Man, Deadpool, Hulk, Iron Man and many superheroes.
Speaking of his big screen debut, Venom once appeared in Sam Raimi's Spider-Man 3 in 2007, while the character was portrayed by Topher Grace.