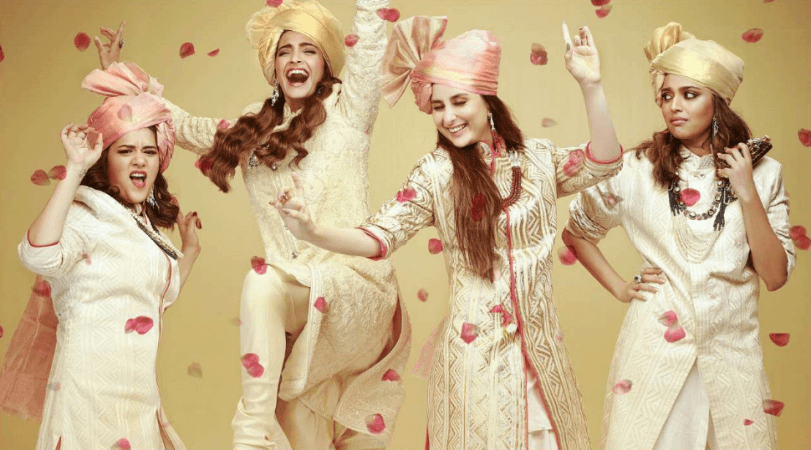 RATING: 3/5
MOVIE: Veere Di Wedding
CAST: Kareena Kapoor Khan, Sonam Kapoor, Swara Bhasker, Shikha Talsania
DIRECTOR: Shashanka Ghosh
GENRE: Romantic comedy
STORYLINE
Veere Di Wedding is about four childhood friends who have their own set of personal issues. Kalindi Puri (Kareena Kapoor Khan) is in a relationship with a sweet, understanding man Rishabh Malhotra (Sumeet Vyas) for three years, but the idea of marriage freaks her out.
Avni Sharma (Sonam Kapoor) is a confused soul who wants to have a family and kids, but always ends up falling for the wrong guy. Constant pressure from her mother (Neena Gupta) to choose someone from online matrimony website further causes stress for her.
Sakshi Soni (Swara Bhasker) ties the knot with the man of her choice in a grand wedding ceremony only to part ways in six months due to compatibility issues. Troubled by bitter comments from neighbourhood women, Sakshi finds solace in alcohol and smoke.
Meera Sood (Sakshi Talsania) is the only one who has a happy married life with a 2-year-old kid, but sadness is for being abandoned by her father for marrying a foreigner, and also her obesity.
All these characters come together when Kalindi finally agrees to get married to Rishabh. However, the commitment-phobic girl finds it extremely difficult to do the act of impressing her would-be in-laws.
While the drama around her wedding keeps unfolding, the other three characters struggle with their own sets of problems. How they overcome it all with the strength of their friendship forms the crux of the story.
PERFORMANCES
Everything is good in the film in terms of performances. All the stars in the movie delivered their best.
POSITIVES
Many teen girls and women of the current generation will be able to relate to their lives in the movie. Commitment issues, problems in marriage, pressure from family to get hitched are some of the common issues womenfolk face these days. There are a couple of moments that throw light humour into the plot. Kareena and Sonam look dazzling. Swara for the first time sports such a glamorous avatar, and she did it well. Shikha plays the most entertaining character among the four.
NEGATIVES
Despite having all the glamour, drama and emotion, Veere Di Wedding does not really entertain. It turns boring and silly at many points. For instance, the bride runs away from the venue in presence of everyone, but nobody notices. Use of cuss words seems forced. The film lacks the entertainment quotient that is expected from a chick-flick, though makers call it 'not a chick flick'.
VERDICT
Veere Di Wedding has a lot of glamour, drama, abusive language, and emotion, but it misses out on the entertainment quotient. Young girls may enjoy this flick, but it could have been much better.