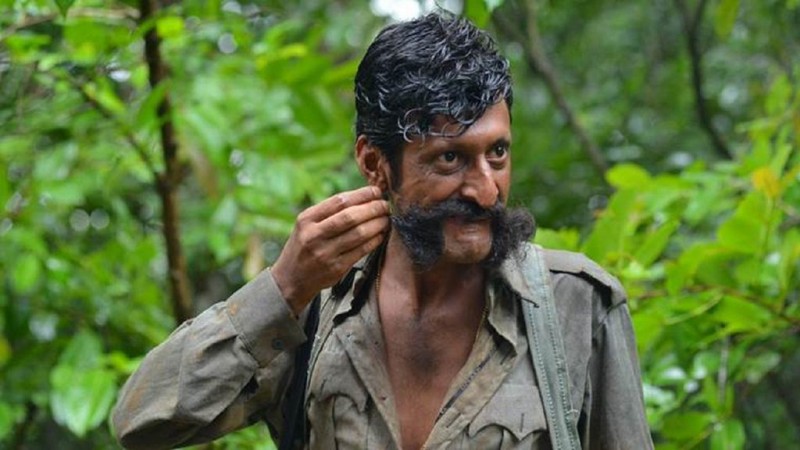 Director Ram Gopal Varma's Bollywood movie "Veerappan," starring Sandeep Bharadwaj, Sachiin J Joshi, Usha Jadhav and Lisa Ray, has received positive reviews from the audience.
Check: Veerappan movie stills
"Veerappan" is a biographical film, which is based on the life of forest brigand Veerappan and the events leading to Operation Cocoon to capture and kill him. Besides direction, filmmaker Ram Gopal Varma has also written the script for the movie in collaboration with RD Tailang. The movie is produced by Raina Sachin Joshi under the banner Viking Media and Entertainment.
Koose Muniswamy Veerappan (Sandeep Bharadwaj) belongs to a family, which is known for its notorious poacher and sandalwood smuggler in Sathyamangalam Forest in the states of Tamil Nadu, Karnataka and Kerala. In his teenage, he started working as an assistant to his relative who was involved in illegal activities. He committed hundreds of crimes in the next few years.
Veerappan was wanted for killing approximately 184 people, including police officers. He was also wanted for poaching about 200 elephants and smuggling ivory worth US$2,600,000 and about 10,000 tonnes of sandalwood worth approximately US$22,000,000. How Tamil Nadu STF chief K Vijay Kumar IPS kills him and his men through Operation Cocoon forms the crux of the story.
The audience say the story of Veerappan is interesting, fresh and something that has never been seen on-screen in Bollywood. Ram Gopal Varma's engaging screenplay and gripping narration are the highlights of the movie. Sandeep Bharadwaj and Usha Jadhav have delivered brilliant performances, which are also big attractions of the movie "Veerappan."
Sachiin J Joshi, Usha Jadhav, Lisa Ray and others have also done justice to their roles and their performances are also good assets of "Veerappan." The film has rich production values and brilliant picturisation and background score are attractions on the technical front. We bring you some viewers' verdict shared on Twitter. Here is the live update of "Veerappan" movie review by the audience:
Taran Adarsh ‏@taran_adarsh
#Veerappan gives an insight into the life and times of the dreaded bandit. RGV is in good form. Sandeep Bhardwaj as Veerappan is superb.
Faridoon Shahryar ‏@iFaridoon
Ram Gopal Varma is back to the grind with a gripping narrative n he keeps u interested throughout...#Veerappan marks a stellar come back! Characters that don't say anythin say so much.#Satya sort of insignificant but significant ppl n even elephants r d hallmark of #Veerappan
NishantBhuse ‏@nishantbhuse
Climax operation of #Veerapan gripping & intriguing @RGVzoomin is back. Two good things about #Veerappan #SandeepBharadwaj & @ushajadhav raw rustic & authentic ..in the skin of their respective characters
Toshi Sabri ‏@ToshiSabrii
Grab ur tickets now to witness the biggest manhunt in the history of world #veerappan releases tomorrow. Ultimate performance by @ushajadhav as Muttulaxmi in #Veerappan absolutely amazing film with stealer Performace...
RJ ALOK ‏@OYERJALOK
Gripping intriguing and interesting Climax #Veerappan @ushajadhav @sachiinjoshi @RGVzoomin @VeerappanMovie Well Made !! Excellent Performance by Mr n Mrs #Veerappan #Sandip @ushajadhav in @VeerappanMovie @RGVzoomin #RjAlok
Suchitra ‏@suchitrak
#Veerappan . Interval point. Taut. Edge of the seat thrils. All super real except for Lisa Rays injected lips
Parag Chhapekar ‏@paragchhapekar
#Veerappan reason 1 @RGVzoomin 2)unseen real story 3) powerful performances by @ushajadhav nissar and veerappannn
Abhishek Dutta ‏@abkdutta
Finally @VeerappanMovie has released & yet again @RGV has done an fantastic job! Watch out for @sachiinjoshi loved his acting in #Veerappan
Arpit Katiyar ‏@arpitktr1
Watched first show of @VeerappanMovie in @MirajCinemas .Fantastic story. What a film. I like look of #Veerappan . watch it. @ramgopalverma20
Dr.JasmineMehta ‏@drjasminemehta
Superb Comeback Of Ram Gopal Verma With #Veerappan ☺ Loved the Movie From the Start To the end. #RGVBackWithABang The story of real-life forest brigand Veerappan is well documented in #Veerappan. #RGVBackWithABang
Vella Di ‏@di_vella
#Veerappan movie first half boring and screenplay bakwas and second half thik thak... dekhne jao toh apni risk per @ash_div
SANJAY CHHEL ‏@SANJAYCHHEL
Loved Ms. talented, Nationational award-dhari @ushajadhav as Mrs. Veerappan She is d bst in thr #Veerappan
Vikas Verma ‏@VikasVerrma
Finally @VeerappanMovie has released & yet again @RGV has done an fantastic job! Watch out for @sachiinjoshi loved his acting in #Veerappan