Ajith and Shruthi Haasan starrer "Vedalam", also spelled as "Vedhalam", has got mixed reviews from the cine-goers. The major highlight of the movie is the performance of the Thala, which has been praised by all section of audience.
5 Reasons to Watch 'Vedalam' | Thoongavanam Movie Review | 'Vedalam' First Day Collection
Ganesh (Ajith) and his sister Tamizh (Lakshmi Menon) come to Kolkata to pursue her education. He works as a taxi driver and one occasion he helps the cop to catch a key member of the underworld. As a result, he is now being wanted by the villains. The story gets a twist when it is realised that he is in Kolkata to catch the baddies. What happens next is the interesting part of the story.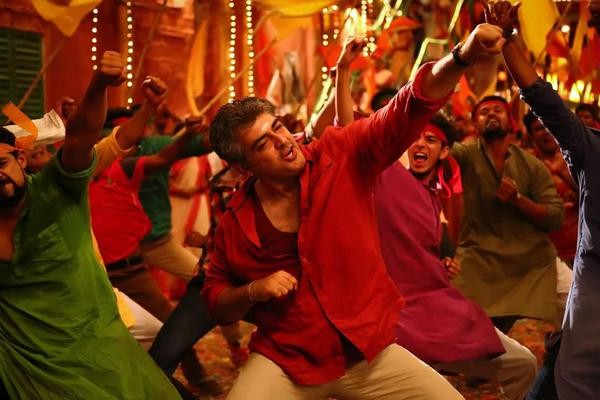 The story lacks freshness and it is predictable at parts. But one can ignore the logics for the sake of entertainment. The comedy in the first half does not work and there are some sloppy scenes. Ajith is the show stealer in "Vedalam".
Average Ratings Given by Audience: 2.5
Reviews:
"Vedalam" has got average reviews from the audience. People have declared the movie as an routine entertainer and nothing special in the flick. Below, read their response to the flick:
Kaushik LM wrote
All set @VettriTheatres .. #Vedalam .. #FDFS .. The exciting moments before the show begins ..
#Vedalam 1st half has a lot of calm and a mighty storm too .. Dir Siva in charge. Peaks at the Interval. Lot of Thiruvizha moments for fans
#Vedalam done ... SUCCESS GUARANTEED
A packaged mass entertainer for #Ajith fans and family audiences. Worked fine for me.
Comedy doesnt work as intended & there is much loud melodrama, but a satisfying film overall
Different shades of #Thala #Ajith & the 'masster' @anirudhofficial working magic on the RR
Each time there is an #Ajith transformation, theater explodes with @anirudhofficial's THERI
Dedicated to the women folk in the end. Good old action - revenge - sentiment mix by #Siva
Yen sondha karutha naa solren .. Pudikala na poi sweet saapdunga, Diwali kondadunga .. Inga vandhu time waste pannadheenga .. Shhhh .. Bye .
Sreedhar Pillai tweeted
#Vedalam 2.75/5 #Ajith is there in every frame, loved his direct conversation with fans (like how he has been backstabbed many times etc)
#Vedalam 2.75/5. The villain brothers are weak, liked 1st half,2nd half there is a lag. @anirudhofficial #AaalumaDolumma pick of the lot
#Vedalam 2.75/5. #LakshmiMenon very good & her scenes with cool & angry Ajith (climax) r awesome. @shrutihaasan brings out her comic side,
#Vedalam 2.75/5. Typical 80's & 90's larger than life super hero film @directorsiva understands pulse of #Ajith fans 4 maximum entertainment
#Vedalam 2.75/5.Fun ride with some speed breakers. #Ajith is a one-man entertainment troupe, who provides best moments in this mass masala.
CineNewsWorld# wrote
#Vedalam 1st Half - Camera Work Is Terrific Added Extra Commercial Element To d Film So Far Complete #Thala Show Waiting 4 2nd Half !!!
#Vedalam 1st Half :- #Anirudh BGM Clicks Well In Mass Scenes Villains Done There Part Well #Shurti Scenes Ok !!!
#Vedalam 1st Half - #Soori Comedy Portions Stress Relief & Entertain to d Core #LakshmiMenon & @Ashwin_as_is Portions Narrated Well !!!
#Vedalam 1st Half :- Well Crafted Racy Screenplay Mega Treat Waiting For #Thala Fans Interval Block Twist & #Therikavidalaama Fight Awesome
#Vedalam - First 20 Minutes Over Non-Stop Entertainer So Far !!!
#Vedalam - #MottaiRajendiran & #Soori Comedy Work Out Well #Siva Targets All Center Audience !!!
#Thala Intro Simple & Ultimate One Non-Stop Whistles In Theater !!!#Vedalam
First Half - Mass
Second Half - Mass Unlimited !!!
#Vedalam - #Thala #Ajith Magnificent Screen Presence & Dialogue Delivery Completely Lift d Movie !!!
#Vedalam - WholeSome Action Package With Mixture Of Sentiment & Comedy
Surendhar MK wrote
#Vedalam: Yet another fan material from Ajith. He has tried to luxuriate in his role but the negligent screenplay lets his efforts down.
#Vedalam: A mildly entertaining first half. A lousy, over-the-top second half. Couldn't sit through the overt melodrama Siva portrayed.
Dinesh posted
Done watching #Vedalam- feel good, commercial, festival family entertainer. Sure to attract women and families. A decent watch.
#Vedalam - Half way through second half, and i have taken my mobile out from my pocket to check whatsapp notifications. #Overdose
#Vedalam interval - Versatile performance from Ajith. Nevermind its a sentiment dialogue or theri dialogue, he hits the nail hard.
#Vedalam interval - Feels like a perfect festival release which will attract family audience as well as fans. Anirudh bgms are biggest plus.
#Vedalam interval - Screenplay reminds you some of biggest blockbusters in Kollywood. Ajith has pulled it off with theri performance.
#Vedalam interval - Man. Man. Man. Therrri is an understatement. What an experience! Solid blockbuster on the way. Ajith and Anirudh _/_
Rajasekar tweeted
#Vedalam - 2.5/5, formulaic film with an enjoyable first half and plodding second half. Watchable for the notorious Vedhalam, show stealer!
#Vedalam- the biggest minus point of the movie is the terrible second half, couldn't sit through. Too melodramatic and predictable!
Common Man Sathish wrote
#Vedalam - Tribute to Women. Thala should be applauded for doing a movie, which praises women.
‪#‎Vedalam‬ - Director Siva had given a complete commercial entertainer with sufficient sentiment scenes & comedy, which works in parts in the first half. Soori & Shruthi scenes could have been better. Second half was quite good with Thala taking complete control over the plot with wonderful acting & sema expressions. Director Siva had satisfied Thala fans yet again
#Vedalam - Thala completely rocks in the second half. Climax acting was Theri..
#Vedalam - Thala characterization in the second half as Vedalam is one of his best characterization & USP of the movie
#VEDALAM - #TherikkaVidalama views at the most appropriate scene in the movie #MASS
#Vedalam First half - Nice to see Thala in sister sentiment scenes for the first time.. Good expressions
#Vedalam First half - Good twist in the interval block.. Waiting for Vedalam characterization in the second half
Diwali, Crackers, Rain, Thala movie FDFS with Therikka Vidurae fans #Vedalam #Vetri
Kannan wrote
#Vedhalam 1st half - All masala elements in right mix with #Thala transformation scene as ultimate highlight & interval bang with twist!!
#Vedalam - Superb commercial entertainer with racy screenplay that's perfectly packaged with action & sentiment. Mass overloaded! (8/10)
#Vedalam - Ajith downplayed well as "Ganesh" but totally rocked as 'Vedhalam'. His bulky physique gives the much needed punch to the scenes!
#Vedalam - The film's plot revolves arnd Lakshmi Menon character & she has scored esp. in 2nd half! Villains Rahul Dev & Kabir Singh apt!!
Prashanth tweeted
Here we go !! #Vedalam
Soooooooooo riiiiii . #vedalam
Suruthi in blue color dowsar #vedalam
Ajiths dialogue about girls and love is nice . Asks boys to better move away if girls dislike instead of bothering #vedalam
Suruthi comedy pannuthu. .. sirikanum, kastapattaavathu sirikanum #Vedalam
Ajith in the process of dodging 1000 bullets and killing 100 villans #vedalam
#Vedalam interval - Engaging so far. Typical siva formula. Different for Ajith.
#Vedalam - 3/5 . Ajiths screen presence let down by mokka comedy and dialogues
Dinesh Prabu tweeted
#vedalam strictly for #thala fans alone.Good story spoiled by cliché screenplay and frequent action sequences.
Venkatesh (CRV) Posted
#Vedalam First half awesome! Interval block brilliant! Waiting for the 2nd half! #THALAveriBeginsWithVEDALAM
Akhil Akkineni ‏wrote
After seeing #Ajith Power Packed Performance
I'm proudly Saying I am Thala Ajith Fan
Raja ramalingam wrote
#vadalam should be nxt mankatha....thala theri in screen....@ rex singapore
#Vedalam second going very racy....only for thala veriyance...mass mass mass no words...tomrw u can enjoy thala fance....
Ramesh tweeted
#Vedalam 1st Half : Starts with Comedy and Sentiments.. Then moves to jet speed once #Thala #Ajith takes baddies head on.. From there, Theri #Vedalam -
After a long time, I am seeing Mass audience clapping for Brother - Sister sentiment scenes.. A pleasant surprise..
#AalumaDoluma - Simply put, an Out of the World experience in Theatre.. #Vedalam
Saravanan Rajaram posted
#vedalam review. Still can't understand why directors and actors choose the same revenge story. Please care to give audience some break
Senthil Kumar wrote
#Vedalam a perfect mass & family entertainer. 1st half high on action whereas 2nd half high on sentiment. Thala's winning streak continues.
Mr Gokul tweeted
#Vedalam [2.75/5] - No Need to say, #Thala Rocked, All Supporting Casts too.. But Poor Comedies. Shruthi Hassan like Imp Resipi in a Meal
Ram wrote
#Vedalam superb. Great acting by #Thala #Ajith. Kudos 2 #LakshmiMenon as wel. BGM s too gud. Thank u @anirudhofficial 4 #TheriMass BGM.
Shahul Hameed posted
Director has tried to sneak into the blockbuster list ,with One Large Mass called Ajith.Jus TRIED, NOT accomplished. Never enough. #Vedalam