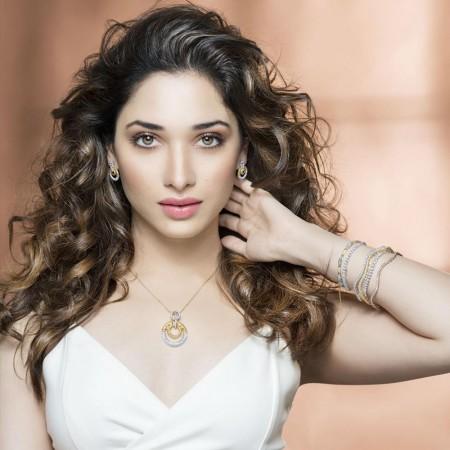 Actress Tamannaah Bhatia, who launched her own online jewellery store 'www.witengold.com' on 31 March, says that her forthcoming movie "Vasuvum Saravananum Onna Padichavanga" (VSOP) will showcase her own jewellery designs.
Wite & Gold is one of India's online jewellery stores and has the finest jewellery designs. Tamannaah is the creative head behind these designs and the price range starts from ₹12,000. "All the designs are personally certified and cleared by me," the actress told The Hindu at the launch of her jewellery store.
Tamannaah says that she can be seen flaunting her own jewellery designs in her forthcoming movie. "My next Tamil film – Vasuvum Saravananum Onna Padichavanga will showcase my designs. It means people can actually see me wearing the kind of products I am designing," she added.
"Vasuvum Saravananum Onna Padichavanga" is a Tamil romantic comedy written and directed by M Rajesh. Besides producing it, Arya and Santhanam are also playing the lead roles, while Tamannaah appears as the female lead. Actor Vishal will make special appearance in it. Bhanu, Karunakaran, Vidyullekha Raman, Siddharth Vipin, Renuka, Brindha Das and Venniradai Moorthy are in the supporting cast.
Initially, "Vasuvum Saravananum Onna Padichavanga" was to be a sequel to 2010 hit comedy film "Boss Engira Bhaskaran" and actress Nayantara was roped in to play an important role in the movie. After Nayan opted out of the film, Rajesh announced that the film would not be a sequel. He re-worked on the same script and created a new story.
The movie was announced in November 2013, but its shooting began on 21 November, 2014. The film unit is now fast wrapping up its productions. The makers have plans to release it very soon. If everything goes as planned, it will hit the screens on 12 June, this year.