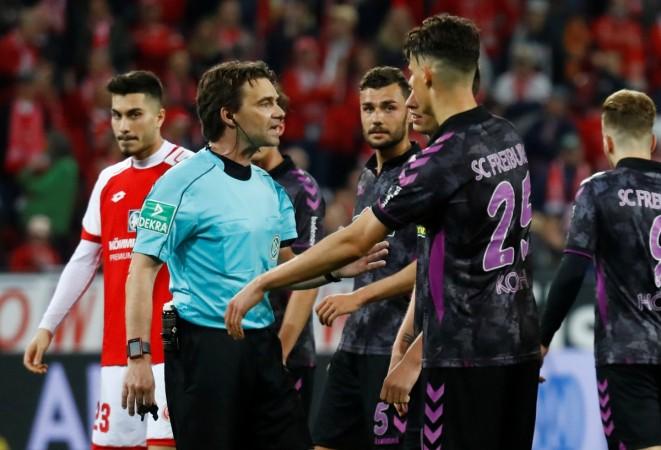 In what is believed to be the first occurrence in world football, the video assistant referee (VAR) system was used to award a team a penalty during the half-time break on April 16.
Mainz's appeals for a penalty were turned down by referee Guido Winkmann after Daniel Brosinski's shot hit Freiburg defender Marc-Oliver Kempf's arm on the stroke of half-time.
Winkmann then blew for half-time, prompting both sets of players to make their way to their respective dressing rooms, but he dramatically called them back after speaking with the VAR and penalized Freiburg for handball.
The penalty was successfully converted by Mainz winger Pablo de Blasis, with the home side going on to win the game 2-0.
"It leaves a bitter taste, but we have to accept it with a heavy heart," Freiburg sporting director Jochen Saier was quoted as saying by the AFP news agency at half-time.
"We were under the impression that, when the referee blows for half-time, that's it."
Winkmann said his actions were supported by the rules of the game, pointing out that a referee can pass judgment an incident as long as he has not left the field of play and the full-time whistle is not blown.
"I received the info from [the VAR control centre in] Cologne that it was a hand ball. Because I already blew the half-time whistle, I asked the players to wait. I then reviewed the incident on the touchline," the referee was quoted as saying by Associated Press.
"It is like it is. The half-time whistle only interrupts the game. If it had happened after the final whistle, we would not have been able to review it. That's a fundamental thing in the regulations.
"That's definitely unusual. It has never happened before. There is always something new. The crossbar might break and then this or that happens. That's football. If I were the club on the receiving end, I would not be happy. But the VAR is here, and it made the game more just once again because I had no chance to spot the hand ball during the normal run of play."