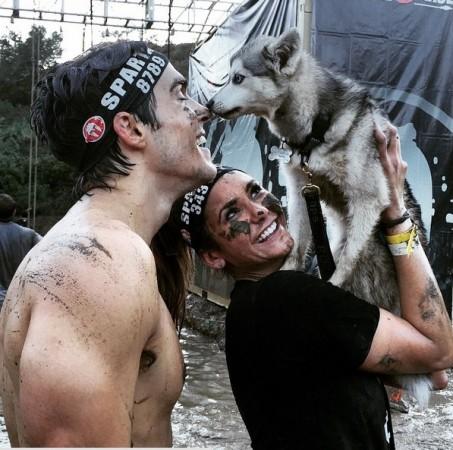 Actor Chris Wood, who plays the role of villain Kai on "The Vampire Diaries", has once again set tongues wagging about the possibility of he being in a relationship with actress Nina Dobrev after he posted online a picture of them at a mud race.
Late last year, it was being reported that the pair was dating after the two were allegedly caught kissing. They recently hit up a Spartan Race to unwind, and Wood posted on Instagram an adorable picture of the two.
The picture shows Dobrev holding up a husky to Wood's face, and the puppy giving him a kiss. "No pain, no husky. #SpartanRace," Wood captioned the picture. Fans of the couple have been going berserk after the picture was posted on social media, and several termed it as the "Dobrewood" moment.
Neither Dorbrev nor Wood has addressed dating rumours, but sources close to the couple told the media last month that they were dating casually. A source told HollywoodLife that Wood and Dobrev have also hooked up.
"They are great friends who have hooked up on the recent times they have been out together but they are not currently looking to start a relationship. They are both very cool about it and it has not ruined working with each other or caused any issues," the source said.
Interestingly, Wood is not the only celebrity Dobrev has been linked to. Since her split with "The Vampire Diaries" actor Ian Somerhalder, Dobrev has been linked to a host of men, including "Gossip Girl" actor Chace Crawford.
The couple, who hung out together at the 2015 DirecTV Super Saturday Night party, sparked romance rumours after they spent Thanksgiving 2014 together. But as per a HollywoodLife source, Dobrev and Crawford are nothing more than just friends.
"They are just friends," the source said. "He is too high maintenance for her and she is too much of a tom boy for him." Dobrev and Crawford's relationship is "perfect for a friendship but nothing more," the source said, and Dobrev's representative too confirmed that the duo was "just friends."