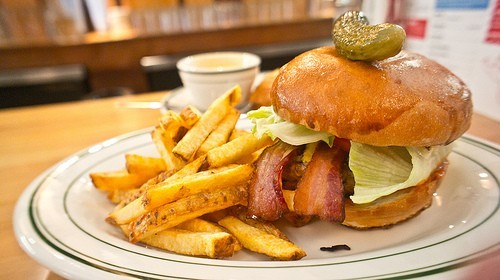 Valentine's Day is all about having a good time with your loved ones. A great time, however, involves a delicious burger and a diamond ring for 'The One'. This is exactly the combination that a restaurant in the United States is opting to woo customers on 14th of February.
A small restaurant in Boston, United States, has taken the Valentine's Day celebrations to a whole new level by offering a special burger with a 7/8 carat diamond engagement ring that is estimated to be worth $3,000 (nearly Rs 2 Lakh) from Kay Jewellers.
Not only does our Big Boy Burger come with fries, but this Valentine's Day ONLY it also comes with an engagement ring. Call Pauli's for more information on this $3k deal. pic.twitter.com/tGXBqzPhnd

— Pauli's North End (@PaulisBoston) February 8, 2018
The small catering company called Pauli released an official statement describing their deal as "Crazy but good. I think it's in my DNA. This time we thought we'd go inside the box." The owner of Pauli, Paul Barker further added "It's the Big Boy Burger proposal. Nothing says 'I love you' like a ring with barbecue sauce dripping down your arm right?"
The expensive yet delicious burger has to be ordered two days in advance for it to be a perfect Valentine's Day gift. While describing the details regarding the delivery, the owner further added that the burger can be 'reserved with a valid credit card'. He also claimed that the interested parties should "act fast, as availability is limited."
You know what they say, burgers and diamonds are a girl's best friend. Buy a Big Boy Burger for $3k and get an engagement ring too, this Valentine's Day ONLY! Call us for more info and please order 48 hours in advance. pic.twitter.com/lnR7QBnsn7

— Pauli's North End (@PaulisBoston) February 11, 2018
The burger includes onion rings, American cheese, barbecue sauce, bacon and a side of fries.
Even if the answer from your loved one is a 'no' for the proposal, a delicious burger would do no harm. Sure, love might be a costly affair if you opt for Pauli's burger, but at the end, it is all worth it!