Vada Chennai (North Chennai) is a film that can be seen in several different angles —a violent gangster flick, an anti-gentrification struggle by the masses, as a character study into four angry men and their mentor, or even as a love story where a seemingly innocent boy gradually rises the ranks within a community in turmoil. There is a lot to unpack in a story like this and director Vetrimaaran has really taken his time and finely crafted a serious film which by the looks of it is part one of what could go down as one of the better gangster trilogies in Tamil cinema.
For those going to this film, be prepared to sit through a rather long, slow burner.
Slow films can go two ways — either get really boring or continue to maintain interest. Vada Chennai is of the second kind. There are sequences peppered throughout the film that seem rather unnecessary and drawn out, but the pay-off is worth it. Like lighting a long fuse for a loud cracker. Vetrimaaran is able to keep the tension between intensely volatile people alive and there are a number of "white-knuckle" moments that really drive it home.
Unlike most Vetrimaaran-Dhanush collaborations, there is a noticeable lack of humour in most of the film and it is not really a sore point, but a film like this does not really need comedy. Instead, the director has used a large part of the film to flesh out the characters. By the time we get to the halfway point, the audience knows all the main players as well as a good number of the supporting roles really well.
There is a lot of cutting back and forth between the present and the past; in fact, it takes a while to get used to the names and the characters. The film itself is presented in a series of triangular relationships, cut out like chapters. Being a film that puts story above all, it makes excellent use of title cards and voice-over narrations. It is a film that demands absolute attention from the audience and it is not a casual watch, at least not the first time.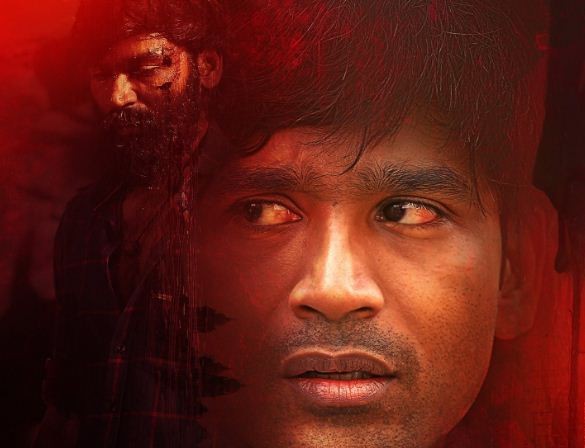 Saying anything more will veer close to spoiler territory, but there is a solid, well-placed twist in the tale right in the middle as the audience breaks off for the intermission.
Anbu, Rajan, Velu, Senthil, and Guna played by Dhanush, Ameer, Pawan, Kishore, and Samuthrakani respectively are all at their best here. The story really revolves around these men and they are nearly perfectly cast and carry their roles with aplomb. There are only two actual women in the film Aishwarya Rajesh, plays Dhanush's love interest and is the reason for Anbu's transformation from a timid Carrom player to the de-facto leader of his slum. However, she has little to do in the film past the first half. It is Andrea Jeremiah's Chandra, who is another well-fleshed out multi-dimensional character, who holds her own in this world of rowdy, angry men.
Can't wait to see what Chandra will be up to in part two of Vada Chennai (The Rise of Anbu).
On the technical side, Velraj as the DoP really shines. Light, the lack of it, shadows, and just the way scenes are put together and the angles chosen tells its own story. The dialogues also add more depth to the story. For those who are not really familiar with "Mardas Tamil", it could be quite a challenge keeping up with what is being said and props to the writers for not taking it easy or even using the slang as a gimmick.
The film extends from the 1980s all the 2000s and the artwork, sets, and wardrobe are era-appropriate and too flashy as movie makers had fancy sets in the 80s. The locations look lived-in and like real places rather than a set put up for shooting. The hole in the wall lives of slum dwellers in a pre-tsunami Chennai harbour likely looked and felt this way. There are subtle hints at future projects that came to be along those parts of the city and how it affected life there as well as winks and nods to the government at the time and after.
Music by Santhosh Narayanan, a first-time collaboration with Vetrimaaran has proven to be a fruitful one. The theme, title, and even songs—what little can be heard in the film—are stellar. The music is just apt.
Final thoughts—should you watch this movie? Yes. It is a violent, slow-burning, contemplative film with satisfying character arcs that make it worth the three hours that you need to invest in it.