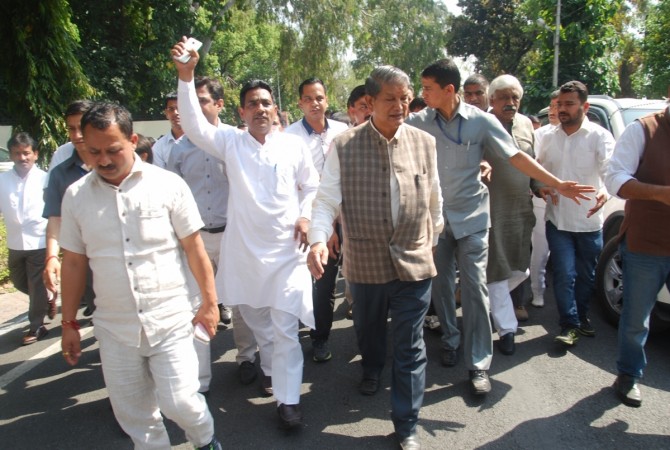 The Supreme Court on Friday ruled that the floor test in Uttarakhand will take place on May 10, but the nine Congress MLAs who had rebelled would be barred from casting their vote. The date was fixed after the Centre agreed to the floor test and asked the court to appoint an observer for it.
The apex court ordered a vote of confidence for former chief minister Harish Rawat and not a composite floor test, which earlier reports had said was likelier. The centre said President's rule should not be withdrawn from the state when the floor test is conducted, the Times of India reported. However, it will be withdrawn from 11 a.m. to 1 p.m. on May 10 when the floor test is conducted. The test will be videographed.
"There should be one agenda and the observer should be a retired chief election commissioner," Attorney General Mukul Rohtagi was quoted by TOI as telling the apex court. "It should only be a test of strength between the two political alliances in the assembly."
The nine rebel MLAs, the apex court said, would not be allowed as the Speaker of the Legislative Assembly in Uttarakhand had disqualified them before president's rule came into force in the state, NDTV reported. The Nainital High Court will be hearing the plea of the nine MLAs who contested the order for their disqualification.
Rawat would have to prove his majority in the assembly with a strength of 61 instead of 70 if the high court rules against the MLAs. He would need to get at least 31 votes to return to power. He is also being investigated by the Central Bureau of Investigation, which summoned him on Monday after a video of he bribing the rebel MLAs surfaced.
President's rule was imposed on March 27 in the state one day before the governor ordered a floor test due to the defection of the nine MLAs. The Nainital High Court later suspended President's rule, but the Supreme court stayed the order. On Tuesday, the apex court asked the Centre to inform the court about the feasibility of the floor test.