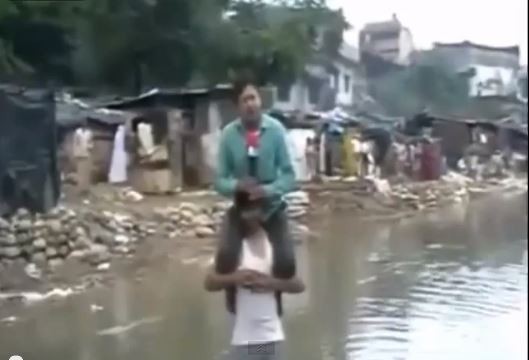 For journalist Narayan Pargaein, reporting from the flood-ravaged state of Uttarakhand cost him his job and may even bring about the end of a noble career.
Pargaein, who worked with Hindi TV news channel News Express, was sacked for reporting the flood-ravaged tragedy while sitting atop the shoulders of a flood victim in knee-deep water.
The video showed the journalist reporting on the crisis in the state and all the while being carried by the man who, Pargaein claims, insisted on carrying him across the inundated river.
The video was leaked on to YouTube and has gone viral on social networking sites. Pargaein received major flak for his insensitive act of being hoisted on the shoulders of a flood victim.
Reeling under negative publicity over the video, Pargaein's bosses had him fired citing 'grave misconduct' from his actions.
"In last few days there has been a video circulation in various Social networking Websites where a reporter is sitting on the shoulder of a man while reporting in Uttarakhand flood, such an act by the reporter Mr. Narayan Pargaien was not just inhuman but was also against the culture of our esteemed organization," said a statement from the News Express website.
Despite the heavy criticism Pargaein went on to justify his actions.
In an interview to a website he said, "It wasn't my idea to begin with, but there was this man who took me to his home and asked me to report the damage he had suffered. His house was in a miserable condition and he had lost a lot in the flood, and was left with very little food and water. We helped him with some food and some money and he was grateful to us and wanted to show me some respect, as it was the first time someone of my level had visited his house. So while crossing the river he offered to help by carrying me on his shoulder, between which, I thought of reporting the flood. We offered Rs 50 as well for the help he gave me."
He went on to make a villain out of his cameraman, who had included the flood victim in the video rather than only shooting Pargaein from a closer range.
"Also the report was supposed to be telecast only with footage of me chest-up. This was entirely the cameraman's fault, who, it seems, almost tried to sabotage my career by shooting from that distance and angle and releasing the video mocking this whole incident, and making me the villain," reasoned Pargaein.
He went on to reject the negative reactions on his comments saying, "... we were actually helping some of the victims there."
.