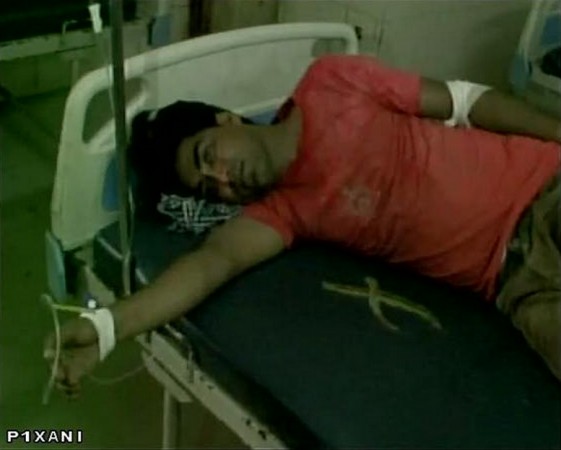 Attacks on journalists are on the rise in Uttar Pradesh, with three scribes attacked in a span of less than 15 days since the beginning of this month.
First it was the alleged burning of a journalist in Shahjahanpur on 1 June, followed by an assault on journalist Deepak Mishra in Kanpur on 11 June and now a third one on 13 June in Pilibhit.
Even as Jagendra Singh's family struggles to get justice for Shahjahanpur-based journalist who was allegedly burnt to death, another television reporter has been allegedly assaulted for reporting on a land grab case in Pilibhit district.
Haidar Khan, a resident of Sherpur Kalan village, was allegedly tied to a motorcycle, dragged and beaten by a group of persons on the night of June 13, ANI reports.
Pilibhit SP JK Shahi said that a case has been registered against four people in connection with the assault on Haidar Khan, who works as a freelance journalist with a news channel.
The latest incident comes days after Singh was allegedly burnt alive by cops for writing against Samajwadi Party leader Ram Murti Verma, who is also a minister in Akhilesh Yadav's government. Singh succumbed to severe burn injuries on 8 June.
Khan said that the men assaulted him because they were unhappy with his stories on land grabbing.
Shahi said that Khan was attacked by one Anand and his associates on Sunday evening in Puranpur, PTI reports.
The attackers left him in an unconscious state at the spot. He was helped by a passerby who took him to the Paharpur police station from where he was sent for medical examination, police said.
"Yesterday, I got a call at about 6pm that the witness in a Rs 2.8-lakh robbery case had met with an accident and I should come to the spot. When I reached the spot, I was surrounded by Anand, his son and three or four more people," Hindustan Times quoted Khan as saying.
"They then started beating me up. They hit me on my temple with a revolver and then dragged me for 100 meters behind a (motorcycle)," he said.
While Khan managed to survive the attack, Shahjahanpur-based journalist Singh lost his life in his battle against an alleged corrupt minister.
The Uttar Pradesh police have suspended five cops and an FIR has been registered under Sections 302 (murder), 120 B (criminal conspiracy), 504 (intentional insult with intent to provoke breach of peace) and 506 (criminal intimidation) of IPC.
Meanwhile, Singh's family, including wife Suman Singh and three children, are on an indefinite strike at Khutar town in Shahjahanpur since Sunday, demanding CBI probe into Jagendra Singh's alleged murder. The UP police have deployed five constables for the family's security.
"Our dharna will continue till the government recommends a CBI probe. We also want Verma to be removed as a minister because a fair investigation will not be possible till he holds the post. I have written to the chief minister seeking action against Verma," The Indian Express quoted Jagendra Singh's son Rajan Singh as saying.