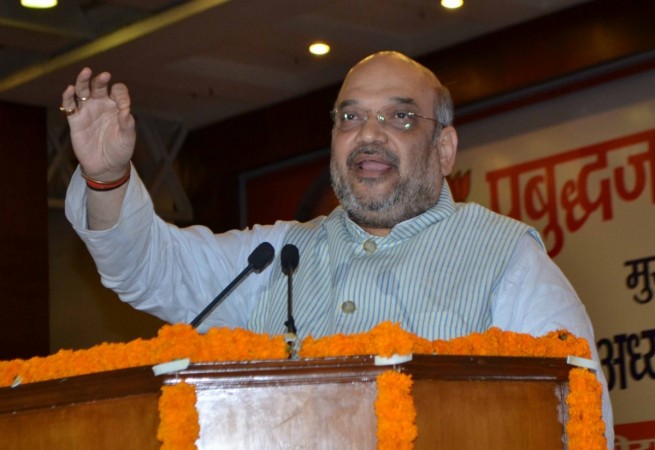 BJP chief Amit Shah on Friday accused the Samajwadi Party (SP) government in Uttar Pradesh of snatching land away from the poor and Dalits instead of giving them land to till or build houses on. Shah was speaking at an event organised for party officials in Gorapkhpur in the state.
Shah also attacked the previous Congress-led United Progressive Alliance (UPA) government, the Mulayam Singh Yadav-led SP and the Mayawati-led Bahujan Samaj Party (BSP) in one sentence, saying: "The SP and the BSP have equal shares in the sins committed by the UPA government [in the Centre], and are only pretending to be separate in Uttar Pradesh."
He also took on the BSP on its own turf, saying: "The rate at which people are exiting the BSP, Behenji [as Mayawati is often referred to] may be the only one left in it by the time the elections come."
Shah's remarks come less than a year before Assembly elections in Uttar Pradesh, a state that is considered politically the most important in the country. In fact, there was a time when it was believed that the party that won the most votes in the state would win the General Elections.
Now, the BJP may not hope to win the Assembly elections in the state, but it may at least look to win enough seats in the state to at least send more candidates to the Rajya Sabha, where several pieces of Central government legislation are getting stuck because the opposition parties have numerical superiority there. The saffron party can also dream of snagging enough seats to play kingmaker and have a taste of power.