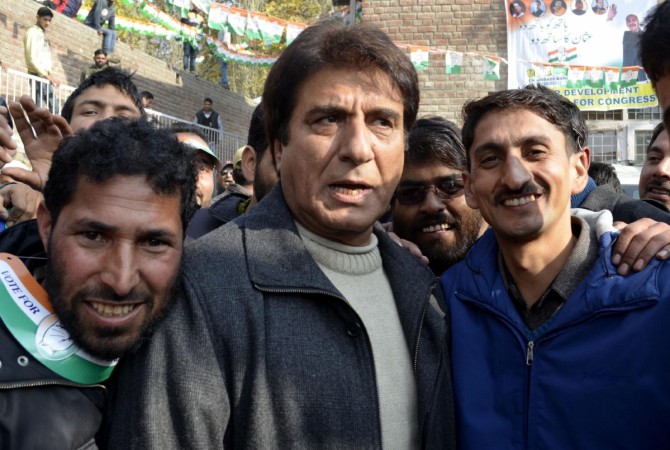 The Congress has appointed Raj Babbar as the chief of its Uttar Pradesh unit, despite earlier reports that either former Delhi chief minister Sheila Dixit or Priyanka Gandhi Vadra would lead the party's campaign in the state for the Assembly elections that are due in 2017. Babbar, who has seen his fair share of elections, has a daunting task ahead of him: To make the Congress a relevant force in a state that has sent the most number of prime ministers to office.
The earlier reports had said that while Sheila would be the Congress' chief ministerial candidate in the state, Priyanka would lead the party's campaign in Uttar Pradesh, whose politics is dominated by the Samajwadi Party — led by Mulayam Singh Yadav, who banks on the Yadav and minority votes — and the Bahujan Samaj Party — led by Mayawati, who banks on Dalit and backward class votes.
The BJP has managed to make some inroads into this state, with Varanasi being the consituency that sent Prime Minister Narendra Modi to Parliament, and he and the saffron party would look to gain more foothold in this politically important state. It is believed that the BJP had exactly this in mind when Modi "promoted" Mukhtar Abbas Naqvi to minority affairs minister and retained Kalraj Mishra as micro, small and medium enterprises minister in the Cabinet. Both leaders are expected to help the party's campaign in UP.
It is under these circumstances that Raj Babbar has been appointed the chief of the Uttar Pradesh Congress Committee (UPCC). He was not the first choice, but he is apt for the position because the Congress really does not expect a huge boost from the UP Assembly elections, despite the bravado it might overtly convey.
Sure, Babbar has shown some spark, and has been in the eye of the storm for comparing Modi to Hitler. Similar attacks can be expected from him in the campaigns before the elections. If they work, well and good. If they don't, no harm done to the Congress, but Babbar may definitely lose some credibility.
Then again, Babbar has already taken some similar hits for his party, like defending the poverty line set during the UPA-II regime by saying in 2013 that people in Delhi can get a full meal for Rs. 12. Now, when rival parties attack the Congress on various fronts, similar defence from him won't sound as outlandish, or will be dismissed, given what he had said earlier.
Basically, observers believe Babbar is a little more than the Congress' fall guy in Uttar Pradesh, and can be elevated to a bigger pedestal only if Priyanka — as rumoured — joins the campaign and breaths some life into the UPCC's sagging morale.