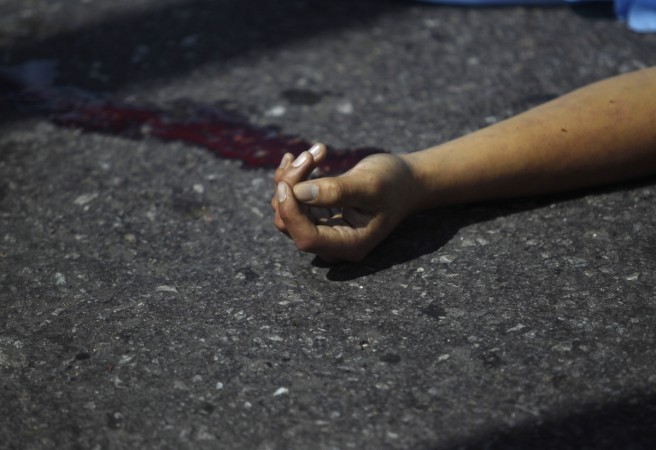 In a shocking incident that took place in Uttar Pradesh's Saharanpur, two teenagers who were in a motorbike accident bled to death on Thursday midnight because three policemen refused to take them to a hospital. The reason? They did not want blood stains in their cars!
Police refuse help
In a three-minute video, which has taken the internet by storm, the two boys, both aged 17, are seen lying beside their two-wheeler, which had fallen on the side of the road. Both the boys, who have been identified as Arpit Khurana and Sunny, are bleeding profusely.
The video, which was recorded by an onlooker present at the spot, shows passersby pleading with the cops to ferry the two boys, who are lying motionless on the side of the road, to a hospital.
The policemen, driving a Toyota Innova, were on night patrol duty as part of the state police's Dial 100 project, when they came across the accident site.
"They are also somebody's children... I request you," an acquaintance of one of the two teenagers is heard pleading to the policemen, NDTV reported.
"Nobody else has a car here. Take them," another man is heard telling the policemen, who seem to be unmoved by the requests.
As the cops, whose insensitivity is clearly seen in the video, continue to wait at the spot without rendering any help, in the background a few men are seen trying to flag down other passing vehicles. To add on their agony, the other vehicles also speed away.
"Your car can be washed but... ", another voice piped from behind, which again has no effect on the cops.
By the time, help finally arrived, the victims had succumbed to their injuries. They were declared brought dead at the hospital.
Here's the video of the incident:
Accused policemen suspended
When Saharanpur city police chief Prabal Pratap Singh learnt about the insensitivity of the three policemen, they were suspended.
"Our men allegedly refused to get medical help. A video is viral. Prima facie, it seems the allegations are true," Singh was quoted as saying by the news outlet.
The police chief has also ordered a probe into the incident.