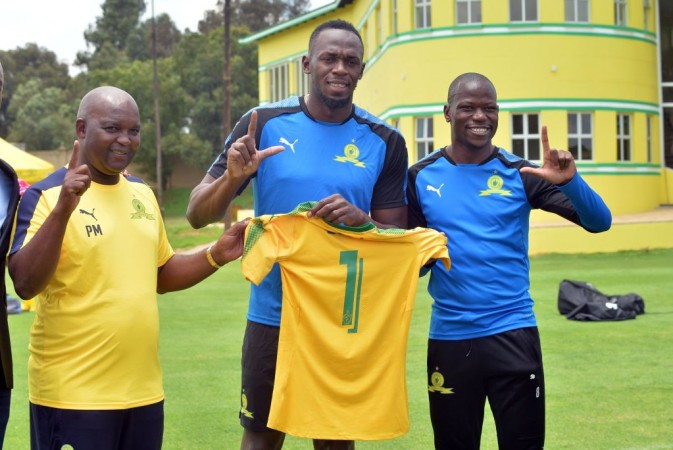 Sprint legend Usain Bolt is all set to lead World XI in the Soccer Aid for Unicef 2018, a charity match against popstar Robbie Williams-led England at Old Trafford on June 10, days ahead of the Fifa World Cup.
"Excited to announce that I will be playing in @socceraid for @UNICEF_uk 2018 at Old Trafford on Sunday 10th June. Make sure you're ready @robbiewilliams!" Bolt tweeted on Tuesday, February 27.
Soccer Aid has been a regular biennial fixture involving celebrities and top football stars since 2006. The likes of Ronaldinho, Zinedine Zidane, and Luis Figo have featured in the previous editions of the charity match.
"It is my dream to make it as a professional footballer, so to be able to step out onto the pitch at Old Trafford in June, and play against some of football's biggest legends is going to be remarkable," Bolt said, as quoted by Manchester United's official website.
Bolt sent his fans into a tizzy when he claimed on Monday (February 26) he had signed for a football club. The decorated Olympian, who retired from athletics with an injury in what was seen as an anti-climax at London World Championships in 2017, added he would announce the name of the club on Tuesday.
"I've signed for a football team! Find out which one this Tuesday at 8am GMT," Bolt tweeted.
Keeping in mind the Manchester United fan's impending trial with Borussia Dortmund, fans were busy speculating and some even wondered if he had actually signed for the German Bundesliga side.
South Africa's Premier Soccer League side Mamelodi Sundowns fulled speculations when they hinted at signing the Jamaican superstar on Monday.
The Sundowns grabbed all the limelight when they retweeted Bolt's post on Monday. The South African league leaders soon followed it up with a photograph of the 31-year-old with a teasing caption.
"Football will never be the same. Find out tomorrow 8am GMT! #Sundowns," the Sundowns wrote.
Notably, Bolt had trained with the Sundowns in January 2018 when he visited the "Rainbow Nation" as part of Athletics South Africa development scheme. The league leaders took to Twitter to share a video of the athletics legend in action.
Sundowns' manager Pitso Mosimane had also made a cheeky remark that Bolt "was a free agent" and that he "can play in a few positions".
Bolt has made no secret of his desires to pursue a career in football. The United fan, in January, offered former England international David Beckham his service for the latter's Miami-based Major League Soccer side, which will enter the league in 2020.
The world record holder in 100m and 200m, earlier this year, had said the outcome of his Dortmund trial will determine his future in the sport. He also revealed he spoke to former United manager Sir Alex Ferguson and that the 76-year-old had asked him to "get fit and ready".