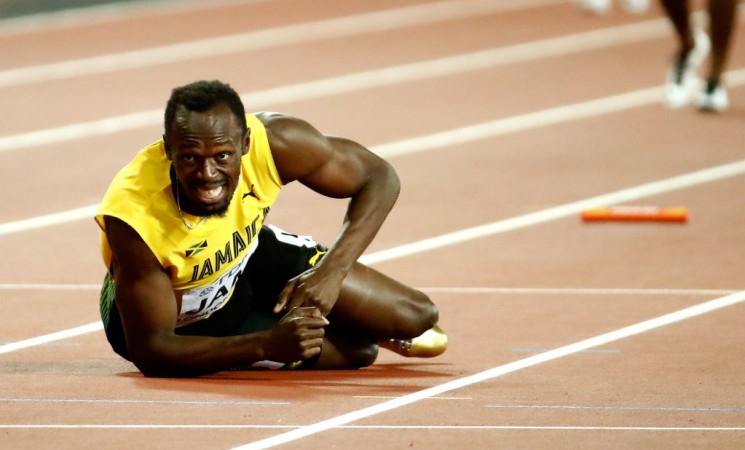 The above picture certainly tells a thousand words!
Usain Bolt ended his celebrated career in the worst possible way by losing an event, in which he had won three straight Olympic Gold and four World Championships titles.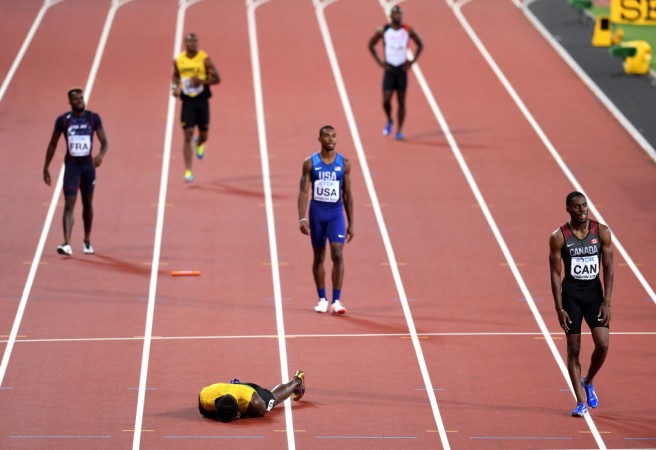 The Jamaican great pulled up with an injury in the anchor leg of the 4x100m final at IAAF World Championships on Saturday, leaving his fans, who were witnessing the historic moment, devastated.
The 30-year-old, after an initial sprint, started hobbling and ended up rolling on the track with a hamstring injury, according to reports.
Even as Great Britain stunned the United States to take the Gold, Bolt was lying flat on the track and was a personification of despair. Like the millions who had watched the race live, Bolt seemed he himself did not believe what was going on at the Olympic Stadium.
The 4x100m final was Bolt's farewell race and a lot was being said about it, especially after the Jamaican legend was beaten in the 100m final last week.
In the morning session on Saturday, the eight-time Olympic Gold medalist made sure there was no hiccups as Jamaica won the second of the two semi-final heats, ahead of France and China. Yohan Blake was missing from the team, but Bolt magic proved enough for Jamaica.
Despite the horrific end to Bolt's race, the London crowd cheered one of the greatest sporting heroes.
WATCH VIDEO
The sprint legend, who had won the 100m, 200m and 4x100m Gold at the same venue during the 2012 Olympics, might not have had a perfect end to his career, but his records over the years will definitely make him a once-in-a-lifetime athlete.
Check out how Twitterati reacted to Bolt's final race.
Devastating way for #UsainBolt to end his incredible career. Not even making it over the finish line as he pulls up with an injury ? pic.twitter.com/cJ22jxfJT0

— ✌ᑎIᙅK ᕼOᑭᙓ✌️ (@NickHopeTV) August 12, 2017
Sad ?. Painful ?. Anticlimax end for the greatest of all. Thanks #UsainBolt

— Oluwashina Okeleji (@oluwashina) August 12, 2017
Sad To See A Great Career End Like This. Usain Bolt Fumbles Up & Injures Himself.

We Still Love You #USAINBOLT ?pic.twitter.com/pNGzrQlioX

— Sir Ravindra Jadeja (@SirJadejaaaa) August 12, 2017
For a man who gave the world so much pleasure, it's ironic that his career has to end in pain.

— G Rajaraman (@g_rajaraman) August 12, 2017
What must be going through his mind. When the body rebels even the greatest is helpless.
Salute @usainbolt for all the memories. #IAAFWorlds

— Boria Majumdar (@BoriaMajumdar) August 12, 2017
If you thought Farah was an heartbreak, then Bolt limping off has crushed mine. Thank you #Bolt

— Naveen Peter (@peterspeaking) August 12, 2017
Sport. Go figure #USAINBOLT

— Gaurav Kalra (@gauravkalra75) August 12, 2017
Living. Legend.
Greatest. Of. All. Time.

Thank you @usainbolt. We love you more than words can say. #UsainBolt

— Deika Morrison (@deikamorrison) August 12, 2017
Living. Legend.
Greatest. Of. All. Time.

Thank you @usainbolt. We love you more than words can say. #UsainBolt

— Deika Morrison (@deikamorrison) August 12, 2017
sooooo sorry for #UsainBolt ??what a sad last run ?

— Judith Hartl (@JudithHartl) August 12, 2017
It was not the climax we expected ..... but @usainbolt You are the Hero ... #USAINBOLT #last-race #legend #Jamaica #fastest pic.twitter.com/m1f86Pqdzh

— sreejesh p r (@16Sreejesh) August 12, 2017