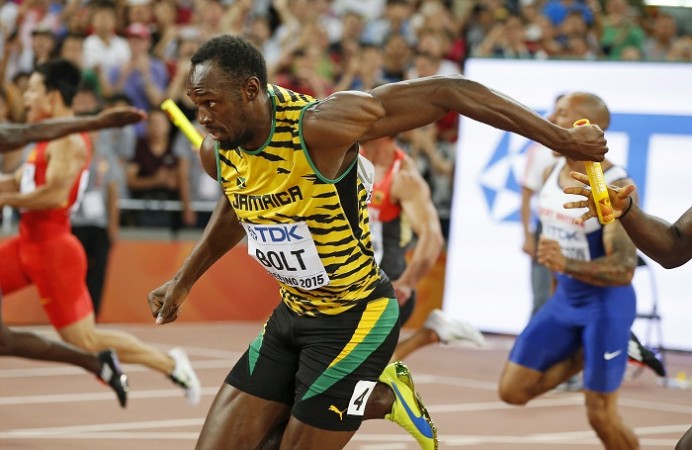 The Rio Olympics, which starts on August 5, is just round the corner, and athletes around the world are making final preparations before the quadrennial event. One such athlete is the fastest man on the planet, Usain Bolt, who will be gunning for yet another impressive performance in the Olympics, and as preparation for that he is set to feature in the Cayman Invitational in George Town on Saturday.
Bolt was at his menacing best in last year's World Championships in Beijing, which saw him win three gold medals -- in the 100m, 200m, and 4 x 100m relay. The 100m and 200m world record holder was not looked upon as a huge favourite in China, but there is something special about Bolt, who takes his game to another level even when the odds may be stacked against him.
After that sensational triumph, the sprinter has not participated in any event, making this Cayman Invitational his 2016 debut.
Though the field may not comprise of great runners, it will give Bolt a chance to test his fitness. Other athletes like his fellow countryman Kemar Bailey-Cole and Cayman Islands' Kemar Hyman would want to stun the Jamaican.
Bolt, whichever event he participates in, starts as the favourite, and this is no different. However, the Jamaican he does not know how will he perform, as it is his first event of the year. One does not expect Bolt to run his fastest in his first race in 2016, but he should not have much trouble in emerging victorious.
"When I left Jamaica everything was good. This is my first race, so you never know what to expect, because race fitness is different from training. The way I feel I should run a good time, because I train with (Yohan) Blake, who ran a good time (9.93) already this season," AFP quoted Bolt as saying.
Events leading up to the Rio Olympics will be special for Bolt, who has expressed his desire to retire from the sport after appearing in Brazil this season. However, the Jamaican has some huge ambitions. Bolt wants to become the first person to run the 200m under 19s, a task, which only the 29-year-old can even think of achieving.