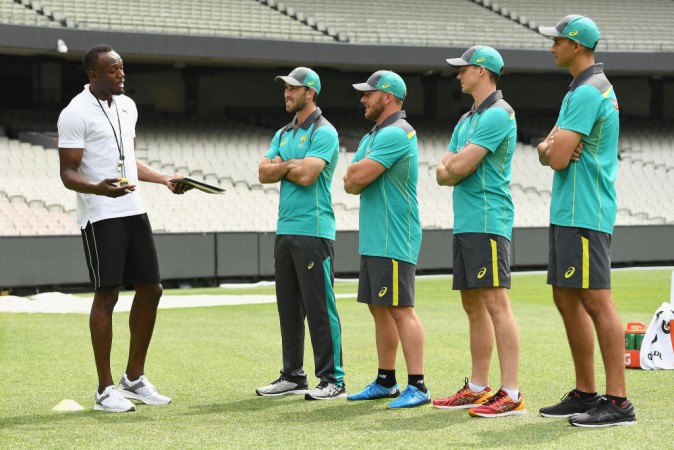 Usain Bolt is a living legend, one of the greatest sprinters the world has ever seen. The Jamaican, who also loves fair share of other sports including cricket and football, seems to be playing an important role in helping Australia prepare for the Ashes
The 100m world record holder assisted some Australian players to help them improve their running between the wickets, which has become an important factor in world cricket today. Rotating a strike is very important in any format of the game and a good runner between the 22 yards is always a good thing.
Cricketers do not focus, majorly, so much on the running part, and Bolt has noticed players rarely start off well, when they are scampering for a run, and spoke about its importance.
"It's all about explosiveness, and that's one thing I've noticed with cricket. They don't really have a lot of explosiveness when they're running. They seem to always take off at a slow rate. Getting that right will definitely help people," The Sun quoted Bolt as saying.
Peter Handscomb, who was one of the Australian players to get some training from Bolt, understood how he can run fast between the sticks.
"He was giving us a few pointers on how to get a little bit faster. We'll give it a crack. He was trying to get us nice and low in the turn and in and out. The first couple of steps are key and if we can get them right, we'll be fast. Obviously, he's the fastest man ever so if we can have the title with him, that'd be cool," Handscomb said.
The middle-order batsman will be eager to put all that he learned from Bolt when Australia face England in the highly-anticipated Ashes, which starts from Thursday in Brisbane. Overall, five Test matches are going to be played with the last one starting on January 4, 2018, at SCG.