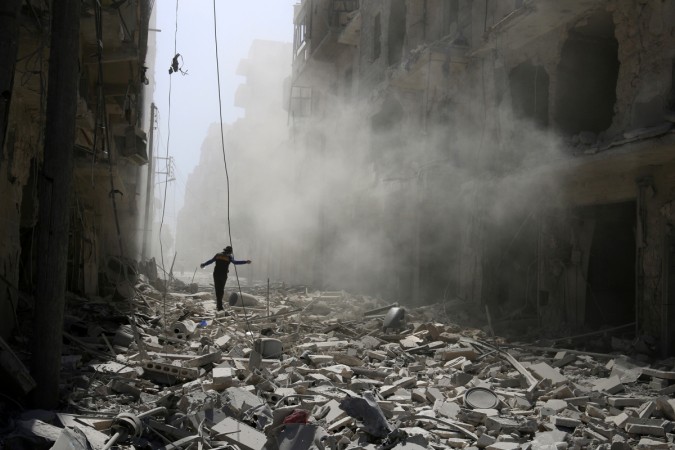 The US-Russia ceasefire agreement in Syria has fallen through as the US suspended "bilateral channels" with Russia on Monday.
The US accused Russia of not following through with its promises made during the agreement, such as influencing the Syrian government to stop bombing civilians in the conflict-ridden country.
"The United States is suspending its participation in bilateral channels with Russia that were established to sustain the cessation of hostilities," US State Department spokesperson John Kirby said in the statement. "This is not a decision that was taken lightly," he said.
"Everybody's patience with Russia has run out," White House Press Secretary Josh Earnest told reporters Monday.
Secretary of State John Kerry had reportedly threatened Russia that the agreement would fall through unless it stops bombing Aleppo. Russia and Syria reportedly continued to bomb Syria the previous week and trucks carrying aids have not been able to deliver food and other resources to civilians.
Russia and the Syrian regime were unwilling to uphold the ceasefire, which was "demonstrated by their intensified attacks against civilian areas, targeting of critical infrastructure such as hospitals, and preventing humanitarian aid from reaching civilians in need," the statement said.
Russia and the US had also planned to work against Islamic state group and al Qaeda's Syrian affiliate, the al Nusra front by forming a Joint Implementation Center in Geneva, Switzerland. However, US personnel will be returning now.
Meanwhile, the two countries will continue their communication about use of airspace above Syria so that accidents between the US and Russian warplanes can be avoided.
The US said that it did hold up its end of the ceasefire agreement, which was mostly secret.
On Monday, Russia reportedly said it was suspending an arms reduction agreement with the US. The countries had planned to dispose of 34 tons of Plutonium.
The decision we have made is a signal to Washington: attempts at talking to Russia from the position of strength, in a language of sanctions and ultimatums while continuing selective cooperation with our country ... where this cooperation benefits the United States will not succeed," Russian Foreign Ministry's website, Foreign Minister Sergey Lavrov said in a statement.