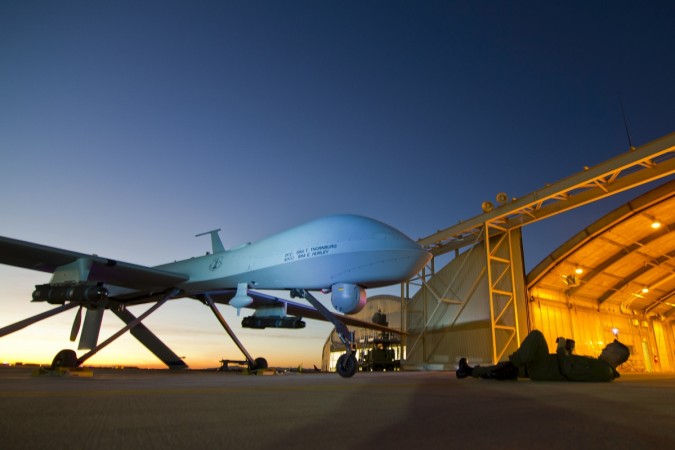 The Indian Navy's requirement for 22 MQ-9B Guardian drones for maritime surveillance duties has got a push from top two U.S. senators. The senators have urged John Kerry, U.S. Secretary of State, to clear the sale of unarmed drones with "utmost urgency."
Senator Mark Warner from Democratic Party and John Cornyn from Republican Party wrote a letter to Kerry asking him to back the sale. They are also the co-chairs of the Senate India Caucas.
"Guardian would aid the Indian Navy in meeting a vast spectrum of maritime security and maritime domain awareness challenges, such as maintaining freedom of navigation, maritime search and rescue, protection of commercial activity and disaster response," the letter noted, according to PTI.
This push from the senators comes days after Defence Minister Manohar Parikkar and U.S. Defence Secretary Ashton Carter met in Pentagon where they could have discussed the likely sales.
The report noted of a strong Pakistani lobby trying to dissuade the sale of Guardian drone to India. Moreover, a section of the officials in State Department needed some convincing.
The letter from the senators noted that Guardian drones provide 360-degrees wide areas surveillance and can operate at high altitudes. They further argued that it would help in increased interoperability between the U.S. and India.
The U.S. is likely to react positively to the sale of Guardian drones to India. Meanwhile, Carter had assured his Indian counterpart that he would personally "champion" it "within the system."
The MQ-9B Guardian is a larger and heavier aircraft than MQ-1 Predator. The drones are likely to be equipped with Seavue radar system that provides inverse synthetic aperture radar and weather detection and avoidance capabilities, MTS-B electro-optical/infrared sensor with laser illuminator/rangefinder and an automatic identification system (AIS). The MQ-9B Guardian will not be armed.