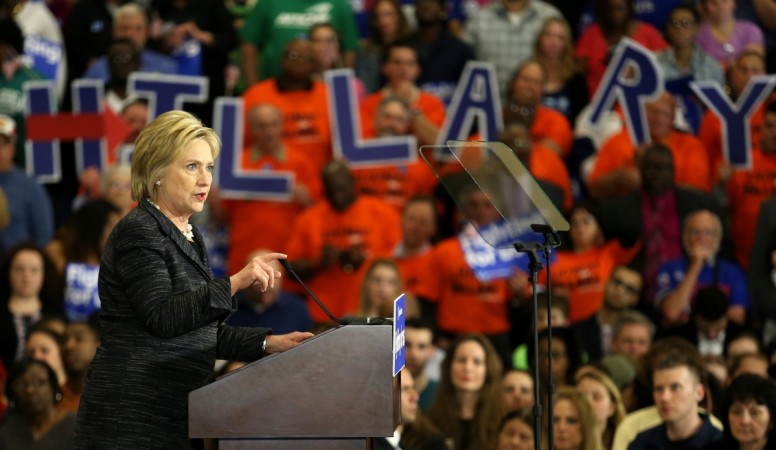 Tuesday's United States presidential primaries ended well for Republican presidential candidate Donald Trump, who emerged victorious in three of the four states. Democratic presidential candidates Bernie Sanders and Hillary Clinton won Michigan and Mississippi, respectively.
Billionaire real estate tycoon Trump won the primaries in Hawaii, Michigan and Mississippi, while U.S. senator from Texas Ted Cruz won the fourth state, Idaho. In Tuesday's primaries, Trump had 59 Republican delegates in three states — 10 in Idaho, 25 in Michigan and 24 in Mississippi. A total of 150 delegates were at stake Tuesday, according to the Associated Press.
As of Tuesday, Trump had 446 delegates, Cruz 347, U.S. senator from Florida Marco Rubio 151 and Ohio governor John Kasich 54. A Republican needs to grab at least 1,237 of the total 1,459 delegates to declare victory as the Republican presidential nominee.
"I don't think I've had so many horrible, horrible things said about me in one week, $38 million worth of horrible lies... I think we ought to use that money to fight Hillary Clinton and the Democrats," Agence France-Presse quoted Trump as saying in Florida after winning the primaries.
Democratic primaries
Democratic candidates Clinton and Sanders won one state each in Tuesday's primaries. In Michigan, of the total 130 delegates, U.S. senator from Vermont Sanders had 65 and former U.S. Secretary of State Clinton had 58, while of the 36 delegates in Mississippi, Clinton had 29 and Sanders 4.
A Democratic candidate needs at least 2,383 delegates to grab the Democratic Party nomination for the presidential race. While Clinton had 1,221 delegates, Sanders had 571 as of Tuesday, March 8, according to AP.
Sanders, who defeated Democratic Party's front-runner Clinton in Michigan, said the win showed his political revolution was "strong in every part of the country. Frankly, we believe our strongest areas are yet to come," Reuters reported.
Despite the defeat in Michigan, Clinton was hopeful as she crossed half of the final number of delegates a Democrat needs to win a presidential nomination.