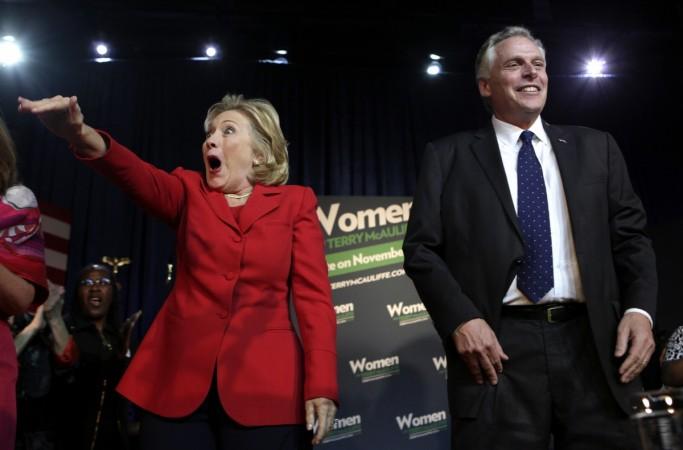 As the US elections come close, skeletons are coming out of the closets of both the candidates. While Republican candidate Donald Trump is being haunted by accusations of sexual assault on multiple women, Democratic Party candidate Hillary Clinton's email scandal seems to be catching-up with her as well.
A recent report said that Virginia Governor Terry McAuliffe, a Clinton ally, who was her campaign chair in 2008, helped the wife of an FBI agent — who probed Clinton's use of private email while working for the White House — get $675,000 for an election campaign.
Jill McCabe, received $467,500, from McAuliffe for her state Senate campaign, while the Virginia Democratic Party directed another $207,788 for her campaign as well, according to a report by the Wall Street Journal.
Jill is the wife of Andrew McCabe, who is now the deputy director of the FBI.
The money came from the political action committee of McAuliffe two months after the probe into the use of private emails began in July 2015.
McCabe "played no role, attended no events, and did not participate in fundraising or support of any kind. Months after the completion of her campaign, then-Associate Deputy Director McCabe was promoted to Deputy, where, in that position, he assumed for the first time, an oversight role in the investigation into Secretary Clinton's emails," the FBI told the WSJ.
McAuliffe's office said that Andrew had met him only once when he persuaded his wife to run for the position. Jill had lost the 2015 Virginia state Senate election to the Republican incumbent candidate.
McAuliffe "supported Jill McCabe because he believed she would be a good state senator. This is a customary practice for Virginia governors...Any insinuation that his support was tied to anything other than his desire to elect candidates who would help pass his agenda is ridiculous," a spokesman for the Virginia governor told WSJ.