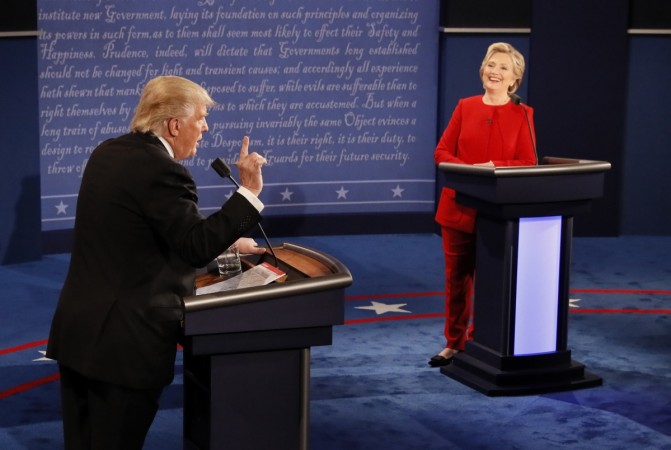 Voters in the US are preparing for the second debate between the two presidential candidates Hillary Clinton vs Donald Trump on Sunday October 9 that political observers believe will be pivotal in deciding the November 8 election.
Democrat nominee Hillary Clinton seems to further cement her lead in public opinion polls, while Republican nominee Trump is on the defencive following the disclosure of recent scandals relating to his financial dealings and misogynistic comments.
Two polls released on Thursday (October 6) place the two candidates shockingly close in what is still considered to be a tight race. A poll by The Atlantic/PRRI places Clinton ahead by six points, 47% to 41%, while a poll by LA Times/USC Tracking has Trump ahead by four points, 47% to 43%. Another poll by Rasmussen Reports that includes both third-party candidates gives Trump a mere two point lead.
Like the first debate, the second showdown between Clinton and Trump is expected to draw in millions of viewers.
When to Watch
The second presidential debate will be broadcast live at 9 pm EST/2 am BST from Washington University in St Louis, Missouri. The town-hall debate will be moderated by ABC News' Marth Raddatz and CNN's Anderson Cooper.
Though the format of the first debate in September was a back and forth between the candidates that was led along by a moderator posing questions, the second debate will take the form of a town hall led, in part, by undecided voters. Candidates will have two minutes to respond to questions and an additional minute will be given for the moderators to continue discussion.
Where to Watch
The upcoming presidential debate will be streamed online on ABC News, Buzzed News, CBS News, CNN, C-SPAN, The Daily Caller, Facebook, Fox News, Hulu, Huffington Post, NBC, PBS, Politico, Telemundo, the Wall Street Journal, Univision and Yahoo.
Twitter will once again stream Bloomberg TV's coverage on debates.twitter.com. Facebook will also be using its Live video tool to interact with users as it airs the debate, while Snapchat will provide coverage via Snapchat stories.
The debate will be seen in India at 6:30 am on Monday.
The final debate will air on October 19, 2016, at UNLV in Las Vegas, Nevada and will be moderated by Fox News' Chris Wallace.