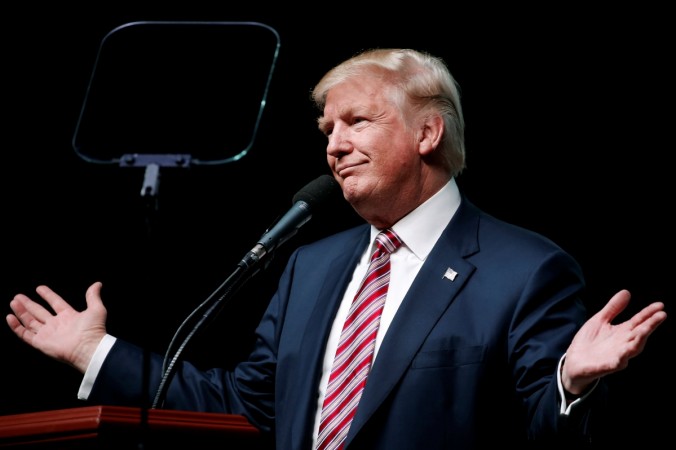 Republican nominee for the United States presidential election 2016, Donald Trump, who has claimed that he only spoke about sexually assaulting women and never actually acted on it even during the second debate against Hillary Clinton, has been accused by two women of touching them inappropriately without their permission.
Jessica Leeds, 74, from Manhattan and 33-year-old Rachel Crooks are the two women that have come forward following the leak of the footage, in which Trump is heard bragging about forcing himself on women. Despite the huge backlash following the leak, Trump and his loyal supporters had insisted that it was just "locker room talk" and that he would never actually assault any woman.
However, Leeds calls what Trump did to her an assault. Leeds, who sat next to Trump during a flight to New York in the 1980s was trying have a good conversation with him when she realised that the armrest between their seats has been lifted. He then proceeded to grope her, grab her breasts and even tried to put his hand up her skirt.
"He was like an octopus...His hands were everywhere," she said during her conversation with the New York Times. Leeds started sharing her story with close friends when she learned that Trump is running for president. And since then she has been sharing it on a larger scale not only to expose Trump, but also to give voice to the women who have been assaulted.
Crooks, who was a 22-year-old receptionist with Bayrock Group when she met Trump in 2005, says that she introduced herself to the businessman because she knew her company worked with him. However, he would not let go of her hand that she had offered while introducing herself, and went on to kiss her directly on her mouth.
"It was so inappropriate... I was so upset that he thought I was so insignificant that he could do that," says Crooks.
However, when questioned about these allegations Trump went on to deny them and reportedly even accused the news organisation of trying to hurt him and his campaign. "You are a disgusting human being," Trump told the reporter who questioned him about the issue. Trump has also sued the New York Times for carrying the story.
Meanwhile, yet another footage of Trump making cringe-worthy remarks about women has been leaked.
In the clip, which is part of Entertainment Tonight's Christmas feature from 1992, Trump is seen talking to a group of girls. He asks one of the girls if she is going up the escalator, and when she responds with a "yeah," he turns to the camera and says "I am going to be dating her in 10 years. Can you believe it?"