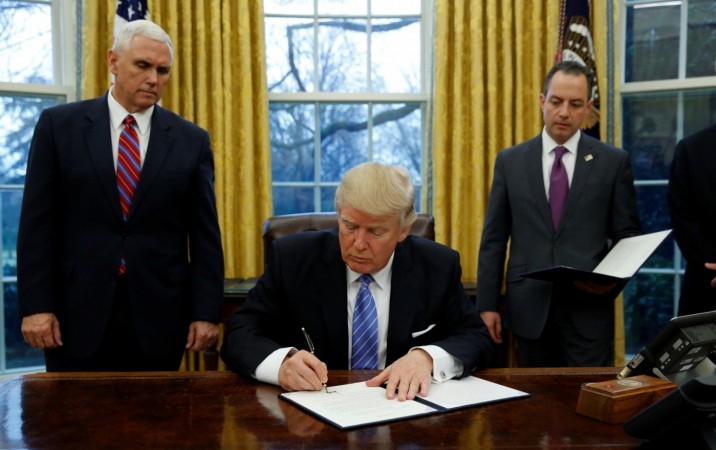 United States President Donald Trump is scheduled to sign several executive orders on Wednesday which include taking steps on his proposed wall along the borders of US and Mexico and restricting immigration to America, administration officials said.
Trump's war on women: US president pushes anti-abortion agenda, reinstates Mexico City policy
The orders will particularly focus on the construction of Trump's proposed Mexican border wall along the southern borders of the country. The US president, during his presidential campaign, had insisted that Mexico will pay for the construction of the wall, however the Mexican government has repeatedly rejected the claim stating it will do no such thing.
Suggesting his plans on Wednesday, Trump wrote on Twitter on Tuesday night stating: "Big day planned on NATIONAL SECURITY tomorrow. Among many other things, we will build the wall!"
Trump, earlier this month, seemed to turn on his proposal and said that the US taxpayers will have to pay for the wall initially and the money will eventually be reimbursed to US by Mexico. Trump is scheduled to meet the Mexican President Enrique Peña Nieto at the White House next week.
Reports state that Trump will also sign orders on checking immigration. The restriction on refugees will probably include a month-long ban on migrants admissions from all countries until the state and homeland security departments come up with a more rigorous vetting process for the immigrants. Trump is expected to sign orders restricting admittance of refugees from some of the Muslim-dominated war ravaged countries including Iraq, Iran, Libya, Somalia, Sudan, Syria and Yemen, experts told the Guardian.
According to a person who briefed about the Trump orders, there could be exceptions for refugees fleeing religious persecution, if their religion is a minority in their country which could cover Christians fleeing from Muslim-majority countries.
Trump on Monday signed an executive order reinstating the Mexico City Policy on abortion, which prohibits international non-governmental organisations (NGO) that get US government funding from performing or promoting abortions. He has also signed orders withdrawing US from the Trans-Pacific Partnership (TPP).