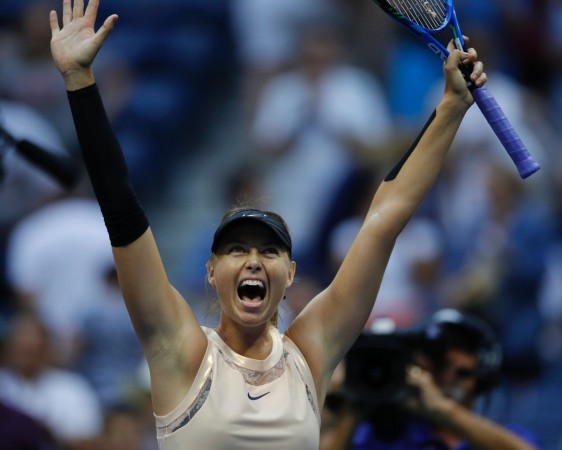 Maria Sharapova is in a league of her own. Returning from her doping suspension and then injuring herself, it's not been a very memorable comeback so far to the tennis court for the Russian glamorous queen.
The 30-year-old's performance in the US Open 2017 however, is gradually taking her back to the throne she vacated some years back.
Sharapova dished out another classy performance as she beat Timea Babos 6-7, 6-4, 6-1 on Wednesday at the Arthur Ashe Stadium to enter the third round of the tennis tournament in Flushing Meadows.
On the same day, prior to Sharapova's 2nd round match, Eugenie Bouchard started the order of play at the famed Arthur Ashe Stadium to take on Evgeniya Rodina. The match was originally slated for Tuesday, but thanks to the rain, it had to be postponed by a day.
Genie Bouchard took to the court in a loose tank top, looking as cute as ever, but where exactly was her focus? The Canadian tennis hottie lost to Rodina 6-7 1-6 after a dismal performance in the second set. Clearly, she was not agile enough on the court (and she cannot blame her loose outfit for that!) and looked clearly the vanquished.
As a result, Rodina capitalised on Bouchard's weaknesses, and what a big win it was for the Russian.
Not many months ago, it was this same out-of-form Bouchard who caused a major upset defeating Sharapova in a Madrid Open tennis match. Prior to that, the 23-year-old Canadian accused Sharapova, her childhood idol, of being a "cheat" and said the Russian was unworthy of playing tennis again, referring to her meldonium intake.
Bouchard also mentioned that she won't again look up to Sharapova. Fact is, even if she wants to, she can't. Sharapova is just in another league of her own where Bouchard cannot even enter. Only good looks cannot make her the next Maria Sharapova.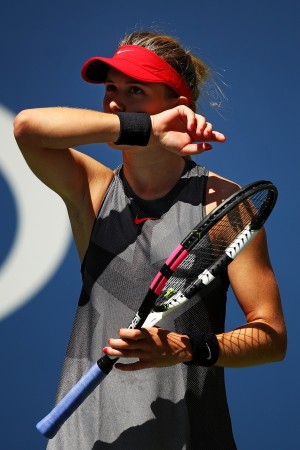 As we are talking of US Open 2017 right now, let's look into the stats:
Six - Total sets under the belt of Sharapova from two matches so far
Two-on-two - Both matches of Sharapova so far, saw her making a stunning comeback.
Against Simona Halep: 6-4 4-6 6-3
Against Timea Babos: 7-6 4-6 1-6
Zero - Eugenie Bouchard didn't even win one set from her only US Open 2017 match
Seven - Bouchard won just seven games over two sets, in contrast to Sharapova's victory at 28 games over six sets so far.