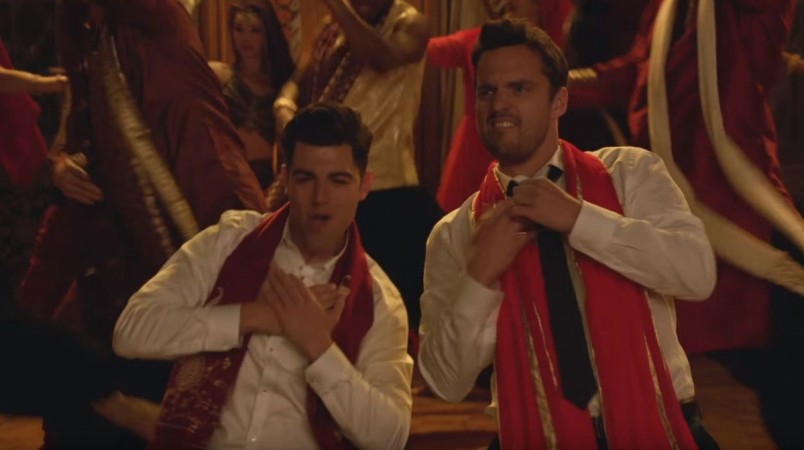 The vibrant colours and catchy tunes of Bollywood have officially gone global, with many American stars channelling their inner desi vibes for popular TV shows. From "New Girl" to "Fuller House," many shows celebrated Bollywood in all its glory recently.
Check out some of the Bollywood dance routines that impressed us the most:
Fuller House
Complete with cheesy catchphrases, "Fuller House" truly paid homage to its mother show, but the creators made it better by bringing in a lot of diversity that was missing in "Full House." In this series, the main characters are Hispanic and they celebrate many cultures, including Bollywood. In this particular episode, Stephanie and Kimmy have organised a Bollywood-themed party and, of course, they dance to some bhangra beats in the episode.
New Girl
Getting to watch Nick, Schmidt and Winston dance to the popular song "Ooh La La" from "The Dirty Picture" was probably the best part about Season 5 of "New Girl." Considering CeCe, one of the main central cast members of the show, is Indian, it does not come as a surprise that Bollywood was featured on the show. In fact, actual Indians speaking Hindi, women wearing saris and a Hindu ceremonial wedding were all featured the last time Cece was about to get married.
The upcoming Season of "New Girl" will be brought to India by Star World and Star World HD'
The Big Bang Theory
Kunal Nayyar's Raj has always been a man of intrigue to the American audience because of the crazy things that comes out of his mouth, especially when it comes to his home country. He is quick to fall in love with any woman that shows the slightest interest in him and when his best friend's significant other started caring for him, he fell for her too. While most men's dream sequence involve their bikini-clad love interest running on the beach, Raj dreamt about Bernadette dancing with him in what sounds like the literal translation of a Bollywood romantic number.
Crazy Ex-Girlfriend
The CW comedy musical "Crazy Ex-Girlfriend" has an Indian editor, Kabir Akhtar, and it is evident in the musical number "Good at Yoga." The whole routine is about the protagonist Rebecca feeling that her crush Josh's girlfriend Valencia, who is also her yoga instructor, is mocking her. The completely comedic song takes all the stereotypes about India and all the thoughts that make a women question her sanity, mixes them up and turns it into a hilariously brilliant dance video.
Don't forget to watch this hilraious show when it airs on Saturday 20th August from 12pm onwards on Star World and Star World HD.
Limitless
This TV show spin-off of the Bradley Cooper movie of the same name, centres on the life of Brian Finch, who has discovered a brain-boosting drug named NZT-48. In one of the thrilling episodes, Jake McDorman is seen dancing with his co-stars to the tunes of "Dil Bole Hadippa."