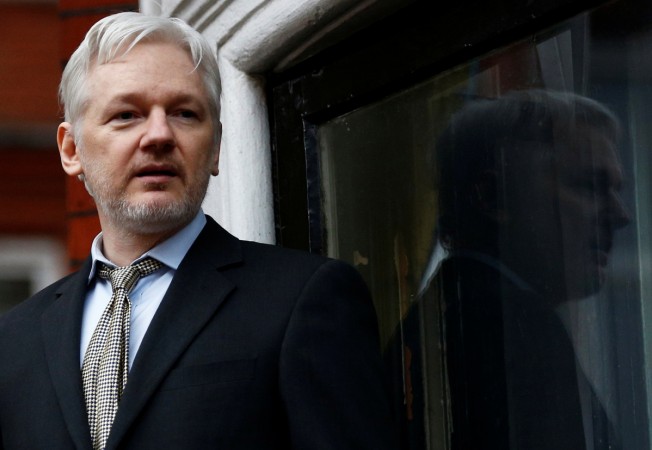 Julian Assange, the founder of WikiLeaks, on Friday said that Russia is not responsible for the hacking of Democratic presidential nominee Hillary Clinton's emails, or for the ones from her State Department staff and allies. WikiLeaks had published the hacked emails on its site, dealing a huge blow to the Clinton campaign.
United States intelligence officials say that the hackers responsible for leaking private emails of the Democratic National Committee's staff were associated with the Russian government and that the Kremlin is attempting to interfere with the US election process. Assange denied the claim and said that their source of the hacked emails was not the Russian government.
"The Clinton camp has been able to project a neo-McCarthyist hysteria that Russia is responsible for everything. Hillary Clinton has stated multiple times, falsely, that 17 US intelligence agencies had assessed that Russia was the source of our publications. That's false — we can say that the Russian government is not our source," Assange was quoted as saying by Russia Today.
Assange also commented on Clinton's health and said that he felt sorry for her as in her he sees "someone who is eaten alive by their ambitions, tormented literally to the point where they become sick — for example faint — as a result of going on, and going with their ambitions."
WikiLeaks first published the emails from the Clinton campaign just before the Democratic Convention in July by releasing email exchanges of the former DNC chairman Wasserman Schultz. The leaks showed Wasserman's bias towards Vermont Senator Bernie Sanders, resulting in her removal from the top position.
Soon after the DNC email leak, WikiLeaks also released a series of emails from Clinton's campaign manager John Podesta's accounts.
WikiLeaks has released more than 30,000 emails from Clinton's private email server from when she was the US Secretary of State. The website has also released around 20,000 emails from the staff of DNC and more than 50,000 emails from Podesta, according to Fox News.