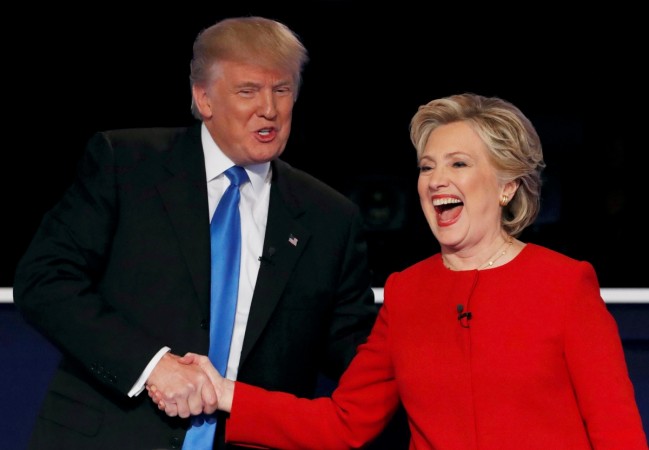 Climate change, undoubtedly one of the biggest threats to humanity, does not figure prominently in the United States presidential debates, according to analysis of the past five election cycles.
To illustrate the problem, consider this: In the first round of the presidential debate between Republican presidential candidate Donald Trump and Democratic presidential nominee Hillary Clinton, a mere one minute and 22 seconds was spent on climate change and other environmental issues.
The discussion itself was somewhat trivial. It was mostly Hillary lambasting Trump for being a climate change denier by quoting his tweet where Trump said: "The concept of global warming was created by and for the Chinese in order to make US manufacturing non-competitive."
And in response, to Hillary, Trump just denied his denial and shrugged it off.
But what is even more tragic about this trivial exchange is the fact that it fares better in terms of time spent on the issue when compared to other debates.
More than 14 minutes spent on the issue is the record that was created in 2000 over the course of three debates, when Al Gore and George W Bush squared off. The lowest on the other hand came in 2012 when climate change and other environmental issues got no time at all during the presidential debates.
Here is the total time spent discussing environment and climate change in presidential debates over past five election cycles:
2016 so far: One minute and 22 seconds in one presidential debate.
2012: None.
2008: Five minutes and 18 seconds in two presidential debates. An additional five minutes and 48 seconds in a vice presidential debate.
2004: Five minutes and 14 seconds in a single presidential debate.
2000: 14 minutes and three seconds in three presidential debates. Five minutes and 21 seconds in a vice presidential debate.
Out of more than 1,500 minutes of debate, in total, climate change and the environment got 37 minutes and six seconds on the prime-time stage during the presidential and vice presidential debates. With new climate records breaking every year, one can only hope that the polity of the US takes the issue more seriously for the sake of the planet, if it's not too late already.
A note about the methodology on the figures that were calculated and originally appeared in Grist and subsequently in Slate: We parsed questions asked of candidates and searched the transcripts for keywords like "climate," "environment," "energy," and "warming." We cross-referenced the transcripts with video of the debates. Only the mentions that pertained to fighting climate change, cleaning up the environment, and reducing emissions counted. US President Barack Obama's passing reference to clean energy jobs in 2012 didn't count, nor did discussions of energy security, because they were in the context of the economy and not fighting climate change.