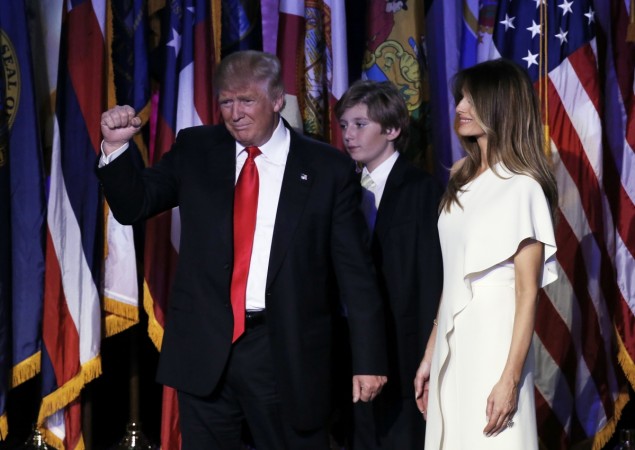 World leaders did not all-together abandon their diplomacy to express shock over the news of the impending Trump presidency, but some did react in a tongue-in-cheek and curt manner.
Since media outlets began calling the declaration of the result, foreign leaders and politicians have been raising apprehensions about international relations.
German Chancellor Angela Merkel's ally¬– German Defence Minister Ursula von der Leyen, for instance, described the result as a "huge shock" and questioned whether the state of relative peace and stable international relations since World War Two is threatened.
Jean-Marc Ayrault, foreign minister of France said that Trump's personality "raised questions", particular in regard to key foreign policy challenges, from climate change and the West's nuclear deal with Iran to the war in Syria.
Carl Bildt, former Swedish foreign minister took to twitter and said: "Looks like this will be the year of the double disaster of the West…Fasten seat belts," he said while referring to the Brexit verdict.
But even though right-wing politicians from the same areas also celebrated the business tycoon's victory and entry into the white house, most reactions, however, were concerned about the risks an inexperienced Donald Trump presidency posed in light of the outrageous statements made by him during the elections.
Historian Simon Schama described a Trump victory and Republican control of both the Senate and U.S. House of Representatives as a "genuinely frightening prospect."
"NATO will be under pressure to disintegrate, the Russians will make trouble, 20 million people will lose their health insurance, climate change (policies) will be reversed, bank regulation will be liquidated. Do you want me to go on?" Schama told the BBC.
"Of course it's not Hitler. There are many varieties of fascism. I didn't say he was a Nazi although neo-Nazis are celebrating."
If the election result is still not shocking you, let's re-visit what the to be 45th president of the United States has said in the run-up to the election, as summarized by Seth Meyers:
1. Called Mexicans "rapists,"
2. Said that President Obama was born in Kenya.
3. Proposed banning all Muslims from entering the United States.
4. Mocked a New York Times reporter, Serge Kovaleski, who has arthrogryposis.
5. Claimed that John McCain wasn't really a war hero, owing to the fact that he was captured.
6. Berated the parents of a soldier who lost his life serving his country, U.S. Army Capt. Humayun Khan,
7. Boasted about sexually assaulting women.
8. Was actually accused by 12 women of sexually assaulting them.
9. Claimed that at least some of the women making allegations aren't attractive enough for him to consider molesting,
10. Stated that more nations should have nuclear weapons,
11. Said that the military should be instructed to take part in war crimes,
12. Stated that a judge, Gonzalo Curiel, is biased because of his Mexican heritage.
13. Suggested that women who have abortions deserve punishment. It appears that Trump has retracted this stance. However, he did suggest that women should be punished for having abortions,
14. Incited violence among supporters,
15. Said that the Chinese perpetrated global warming as a "hoax,"
16. Called for Hillary Clinton to serve jail time, Has companies that have declared bankruptcy six times
17. Boasted about not paying any personal income tax,
18. Didn't pay employees and contractors or paid them late,
19. Was able to lose more than $1 billion in business in one year.
20. "Scammed" students at the "fake" Trump University,
21. Used solicited contributions to his "fake foundation" to buy a six-foot-tall portrait of himself.
22. Has a fraud trial scheduled for later this month,
23. Insulted GOP primary opponent Carly Fiorina's face, Insulted Ted Cruz's wife's appearance,
24. Boasted about his fame and stardom allowing him to "grab women by the p****."
Yes this ^^ guy is the new president of the United States of America. There is only one thing to do: