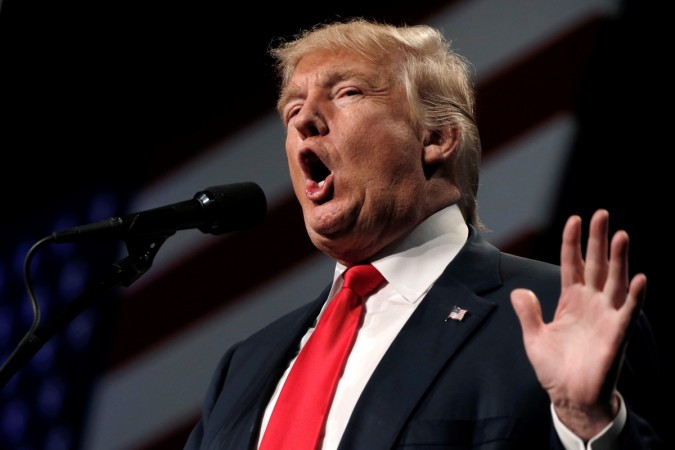 United States presidential candidate from the Republican Party Donald Trump was slammed by Republican leaders after a video recording of him from 2005 talking about women in vulgar terms and passing lewd remarks surfaced on Friday night.
Trump, during an off-camera banter with a television host, bragged about how he "moved on" a married woman "like a b****" and tried to "f***" her but failed". He, then, goes on to say: "You know I'm automatically attracted to beautiful (women). I just start kissing them. It's like a magnet. Just kiss. I don't even wait. Grab them by the p****. You can do anything."
Trump was talking to television host Billy Bush during the taping of a segment for the show "Days of Our Lives" where the Republican candidate had to tape a cameo. The recording, obtained by the Washington Post, was caught on a live microphone Trump was wearing on his lapel.
"When you're a star, they let you do it," Trump said in the video. The conversation took place a few months after he married Melania, his third wife.
"I've got to use some Tic Tacs, just in case I start kissing her," Trump said after seeing Arianne Zucker, the actress who was waiting to escort them to the sets.
Trump released a statement on Friday that said:
"This was locker room banter, a private conversation that took place many years ago. Bill Clinton has said far worse to me on the golf course - not even close. I apologize if anyone was offended."
Bush, in a statement released by NBC Universal, said:
"Obviously I'm embarrassed and ashamed. It's no excuse, but this happened eleven years ago. I was younger, less mature, and acted foolishly in playing along. I'm very sorry."
After the video appeared online Friday afternoon, Democratic nominee Hillary Clinton wrote on Twitter:
This is horrific. We cannot allow this man to become president. https://t.co/RwhW7yeFI2

— Hillary Clinton (@HillaryClinton) October 7, 2016
Senator Tim Kaine, who is running for vice president from the Democratic Party, also tweeted:
This kind of behavior is disgusting. It makes me sick to my stomach. https://t.co/mOUKgr6axl — Senator Tim Kaine (@timkaine) October 7, 2016
Trump was slammed by members of his own Republican party. House Speaker Paul Ryan said that Trump's remarks had "sickened" him and that the presidential candidate would no longer appear with him at the Wisconsin campaign event scheduled to be held on Saturday.
"Women are to be championed and revered, not objectified. I hope Mr. Trump treats this situation with the seriousness it deserves and works to demonstrate to the country that he has greater respect for women than this clip suggests," Ryan said in a statement.
Senator Mitch McConnell from the Republican Party issued a statement on Friday night asking Trump to express contrition and offering cover to fellow Senate Republicans to disown Trump if he does not apologise.
"As the father of three daughters, I strongly believe that Trump needs to apologize directly to women and girls everywhere, and take full responsibility for the utter lack of respect for women shown in his comments on that tape," McConnell said in the statement.
Mitt Romney also lashed out at Trump for his lewd and vulgar remarks and tweeted:
Hitting on married women? Condoning assault? Such vile degradations demean our wives and daughters and corrupt America's face to the world.

— Mitt Romney (@MittRomney) October 8, 2016
The disclosure of the video is a setback for Trump's campaign and his attempts to win female voters with just a month until Election Day. He has repeatedly said that "nobody respects women more" than him and has vowed to "cherish" and "protect" women as president.