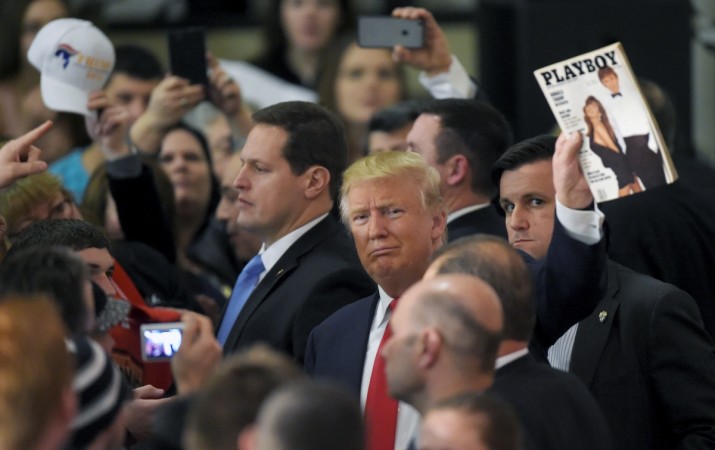 Campaigning for the United States presidential election, which is barely a few weeks away, took an unexpected turn when it emerged that Republican candidate Donald Trump appeared in a soft-core pornographic video for Playboy magazine in the year 2000. He had already appeared on the cover of the famous magazine in its March 1990 issue.
The development is ironic, because Trump himself has been trying to undermine former beauty queen Alicia Machado, who has been vociferously supporting Democratic nominee Hillary Clinton, by accusing that she has a sex tape.
The video from the turn of the millennium apparently shows Trump mingling with the Playmates. The video itself is about the Playmates going on a countrywide tour to find the Playmate of the year 2000, visiting cities like New York, Las Vegas, Chicago and San Diego.
Trump is seen when the Playmates are in Chicago, and is reportedly heard in the video as saying: "Beauty is beauty, and let's see what happens with New York." He then kicks off the Playmates' tour in New York by breaking a bottle of champagne on a limousine and then pouring the contents of the bottle on the Playboy bunny, the official logo of the magazine.
"From luxuriating in a warm, soapy tub, to reveling at an exclusive night club, Carol and Darlene bare their sex appeal and lead you on a sensual journey of discovery," reads the cover.
There had earlier been speculation that Trump's campaign could be upstaged by the nude photos his wife Melania had shot of herself, but the business tycoon-turned-politician never let that bother him.
It now remains to be seen how he plays this one, given that his idea of what to do with sex tapes definitely include watching them. By his own admission, he and his wife Melania -- then girlfriend -- had sat and watched the sex tape of Paris Hilton in 2003. This, despite he admitting to radio host-turned-realty TV show judge Howard Stern that the Hiltons -- Paris' parents -- were friends with him.