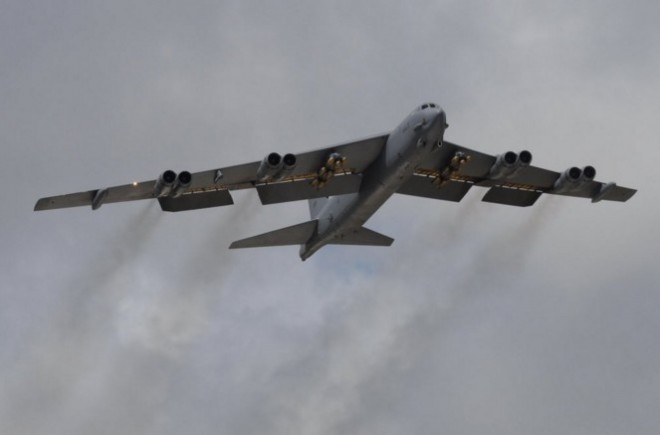 The U.S. has deployed the long-range Boeing B-52H Stratofortress belonging to the 20th Expeditionary Bomb Squadron of the U.S. Air Force (USAF), which arrived April 9 at Al-Udeid airbase, Qatar, to join the coalition air campaign against Islamic State militants (ISIS or Daesh).
"The B-52 will provide the coalition with continued precision and deliver desired airpower effects," said Lieutenant General Charles Q Brown Jr, commander of US Air Forces Central Command and Combined Forces Air Component, IHS Jane's 360 reported.
He further added that the B-52s can perform diverse roles that includes delivery of precision weapons and strengthens the coalition team.
"The B-52 demonstrates our continued resolve to apply persistent pressure on [the Islamic State] and defend the region in any future contingency," he added.
The mammoth B-52H is likely to be used to bomb ISIS targets in Iraq and Syria.
Recently, the USAF had withdrawn its Rockwell B-1B Lancers temporarily from Al-Udeid airbase as the aircraft had to undergo a systems upgrade. So this deployment is seen as a measure to fill the vacuum in U.S. airpower in the region.
Since the 1991 Gulf War, this is the first time that B-52H bombers were deployed to forward-base in Middle East, the report added.
This deployment comes in the backdrop of similar Russian deployment that saw deployment of the Tu-22 Backfire, the Tu-95 Bear and the Tu-160 Blackjack to Syria, Forces TV reported.