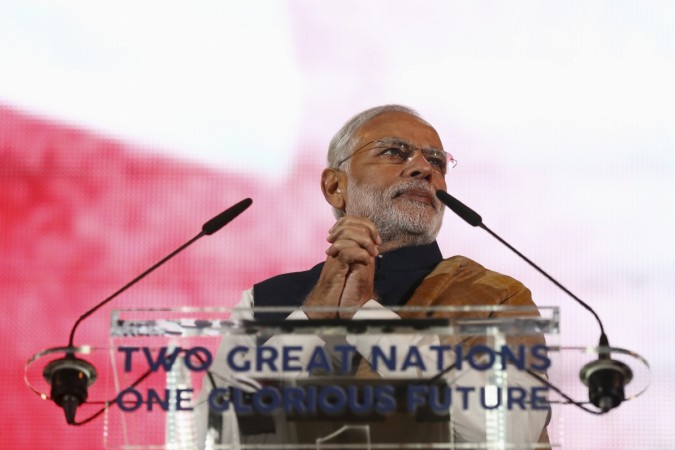 UPDATE: May 21, 12:00 p.m. IST — Prime Minister Narendra Modi is set to address a Joint Meeting of the U.S. Congress on June 7. He will also hold meetings with U.S. President Barack Obama over progress on deals on defence, security and energy.
"The main objective of the forthcoming visit of the Prime Minister would be to consolidate the progress made in diverse areas such as economy, energy, environment, defence and security, and to intensify cooperation for the future," External Affairs Ministry statement was quoted as saying by the Press Trust of India.
Original Story — The United States House Speaker Paul Ryan on Thursday reportedly extended an invitation to Indian Prime Minister Narendra Modi to address a joint session of Congress in Washington during his visit in early June.
Modi is likely to address the joint session of Congress on June 8. He will be the fifth Indian prime minister to address the Congress in the United States. Rajiv Gandhi was invited to speak in 1985, PV Narasimha Rao in 1994, Atal Bihari Vajpayee in 2000 and Manmohan Singh in 2005, the Hindustan Times reported.
"The friendship between the United States and India is a pillar of stability in an important region of the world," Ryan, the Republican leader of the House of Representatives, said.
"This address presents a special opportunity to hear from the elected leader of the world's most populous democracy on how our two nations can work together to promote our shared values and to increase prosperity. We look forward to welcoming Prime Minister Modi to the United States Capitol," he added.
There has been no word from the Prime Minister's Office about the response to the invitation. However, Foreign Secretary of India S Jaishankar visited Washington to finalise the agenda of bilateral talks between Modi and U.S. President Barack Obama, according to HT.
The invitation from the U.S. Congress comes years after Modi was denied visa following a bloody riot in Gujarat soon after he took over as the chief minister of the state. In 2005, then-President George W Bush's administration denied Modi a visa under a 1998 U.S. law barring entry to foreigners who have committed "particularly severe violations of religious freedom," Reuters reported.
However, the restrictions were lifted after Modi came to power as the prime minister in 2014. In 2010, the Supreme Court ruled there is no case against Modi in connection with the 2002 riot.