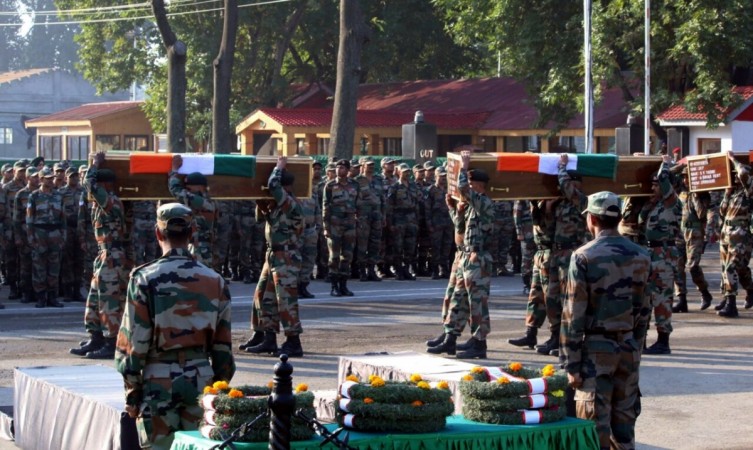 Chief ministers across India are being slammed over the quantum of solatium they have awarded from their state funds to the 18 martyrs of the Uri terror attack. Critics say that these amounts are much less than the sum given to people who were killed in other circumstances.
It all started with Sangeeta Devi, the wife of Havaldar Ashok Kumar Singh, who said the Rs 5 lakh solatium offered by Bihar Chief Minister Nitish Kumar to her, and the kin of other soldiers from the state who had been martyred in Uri, was not enough.
She said the day after the incident in Uri: "A common man in the state who dies in an accident gets Rs 4 lakh compensation. My husband is a martyr. I don't need Nitish Kumar's financial assistance." She added: "We are not beggars who need peanuts from the government. We are self-sufficient. Nitish Kumar should be ashamed of what he is giving us."
Twitterati soon latched on to the "not beggars" part and start slamming all the chief ministers, who had offered what they felt was below-par solatium to the kin of the Uri martyrs. This reached a feverish pitch on Thursday, September 22, when they got the hashtag "#MartyrsNotBeggars" to trend on Twitter. It did not matter that the Nitish government had already increased the solatium to Rs 11 lakh by then.
The anger spilled over to West Bengal on Thursday, September 22, when martyr Gangadhar Dolui's father told a newspaper the Rs 2 lakh solatium the state government had offered amounts to "sheer humiliation."
West Bengal Chief Minister Mamata Banerjee was already being slammed on social media for announcing the solatium amount, which seemed dwarfed by the Rs 10 lakh she had offered to the victim of a stampede during the Haj in Mecca last year.
Even Uttar Pradesh Chief Minister Akhilesh Yadav came in for some flak despite announcing Rs 15 lakh for the Uri martyrs from his state, with people pointing out that the state government had announced much higher solatium for the Dadri lynching victim Mohammed Akhlaq, insinuating that it was a political gambit.