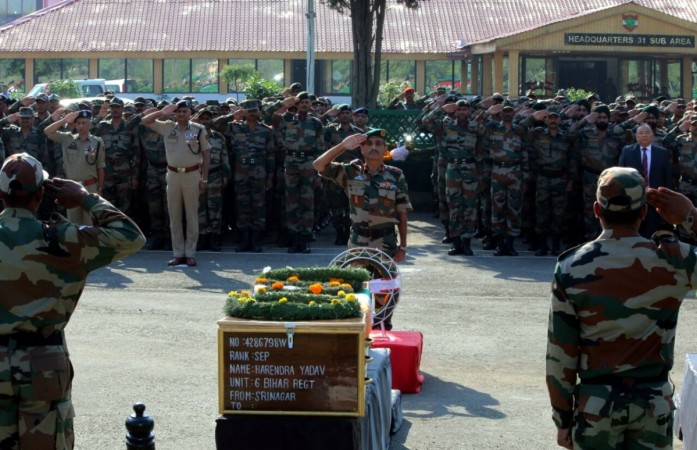 Infiltration into Jammu and Kashmir has risen sharply this year, after declining to a seven-year-low in 2015, as is evident from a spate of terror attacks in recent months. In the latest attack, 18 army personnel died — the highest casualty in 27 years — when an Indian Army camp was targeted in Uri on Sunday, September 18. Uri is about six km from the India-Pakistan border.
There have been 90 infiltration attempts till June 30 this year, according to government broadcaster Doordarshan.
Read: Another soldier succumbs to injuries in Uri attack, death toll rises to 18
The Indian Army had earlier foiled an attempt by three Lashkar-e-Tayyaba (LeT) terrorists in Poonch after killing them in a three-day encounter on September 10.
In Uri sector, security forces thwarted an infiltration attempt into Kashmir on August 16, killing five terrorists.
The fall in incidents of terrorists sneaking into India last year across the LoC was attributed to heightened patrolling along the Line of Control and an effective counter-terror system in the state.
"Last year, 121 attempts were made by militants to infiltrate into the state and only 31 were successful," said a security official. "The infiltration last year was almost half as compared to 2014 when the figure was 65."
The Tribune cited a security official to say that infiltration in 2015 was the lowest since 2009, after remaining at relatively high levels in the earlier years. The daily said that there were 99, 82, 52, 121 and 97 infiltrations in 2009, 2010, 2011, 2012 and 2013, respectively.
The issue of terrorists increasingly trying to enter India through the LoC with apparent help from the Pakistani security forces on the other side of the border was also flagged off by Union Home Minister Rajnath Singh a few days ago.
"The number of infiltration bids decreased in 2015 when compared with earlier years, but in 2016 it has increased," he said at an event in Panaji on September 10.