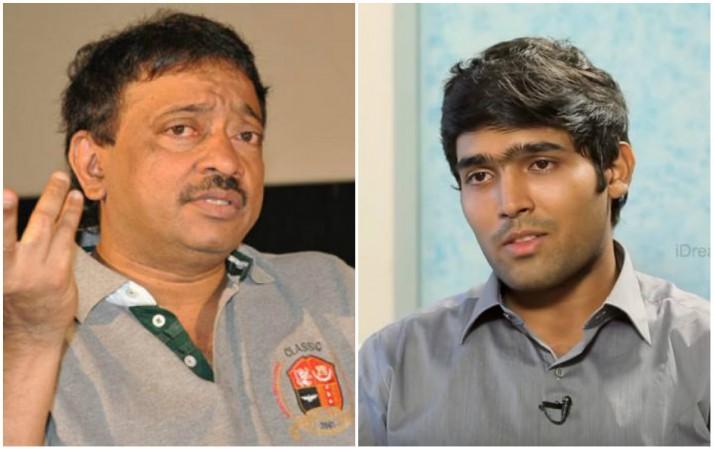 Yedavelli Akshay Kumar, who got the 624th rank in the UPSC examination, has revealed that Ram Gopal Varma is his inspiration as he has influenced him so much that he cannot explain it in words.
Akshay Kumar, son of a police constable Mamnoor in Warangal, Telangana comes from a humble background. He cracked the UPSC Mains for 2017. Having secured 624th rank, the 23-year-old is set to don the police uniform soon. It is a dream come true for him as it is his first attempt.
"My mind was clustered with various ideologies and perceptions about the society. But my mind became clear after hearing to this man. I don't get angry. One gets angry when he thinks he is right. If your mind is liberal, you will have a free flow of thoughts. If you follow some ideology, you find it difficult to accept others' views. You are bound to feel angry and argue with them," Akshay Kumar told iDream.
"If your mind becomes liberal, you understand syllabus and you get ideas. It will become very easy for anyone. There is a person behind my transformation. I follow him so much that I can't put it in words. Even if there is prelims exam the next day and tonight a video of his releases online, I would rather watch it before resuming my studies," added Akshay Kumar.
When the interviewer asked how come a civil topper found inspiration in a film celebrity, he replied, "It is not about the field. It all comes from thinking."
"I like him because he speaks logic. Don't believe in anything without reason. Society is nothing, but a collection of people. Don't believe in superstition and think logically and rationally. I like him because of this philosophy. He finished reading all the philosophers during his college years. Since I don't have time, I listened to him, in a way, indirectly reading all those philosophers."
He explained the reason why he likes RGV is he doesn't do what everyone does.
"My way of speaking was totally different before, but it changed completely after I started to listen to him."
Ram Gopal Varma has made pathbreaking films in the past, but of late, he has been in the news for a wrong reason. He had faced flak for making actress Sri Reddy abuse power star Pawan Kalyan. The filmmaker was thrilled to know that UPSC topper Yedavelli Akshay Kumar was inspired by him. He took to his Twitter to share his excitement.
He tweeted, "For all those who thought i inspire only criminals and perverts take a listen to what this Civil Topper is saying. The irony is that I was a terrible student and failed in Civil engineering twice but proud about it Yedavalli Akshay kumar a Civils Topper takes inspiration from a failed Civil engineer.. Watch from 23:45 to 28:30 Hey Akshay I would like to meet you and talk to u about education."