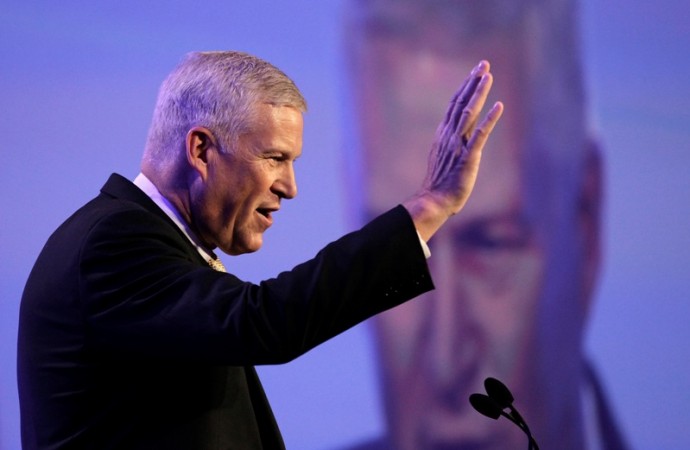 Louis Chenevert, the chief executive officer of United Technologies, the multinational conglomerate, stepped down from the post abruptly on Monday, 24 November. He has been replaced by Gregory J. Hayes, the Chief Financial Officer and Senior Vice president of the company.
Chenevert's decision to step down was sudden and the replacement was effective immediately. Neither the company nor Chenevert explained the reason for his departure. However, Chenevert wrote to The Wall Street Journal that he was extremely proud of UTC's transformation under his leadership and added that he was looking forward to "the next chapter" of his life along with his wife and family.
United Technologies didn't say much about Chenevert's departure.
"The Board thanks Mr. Chenevert for his 22 years of service to UTC, his leadership over the last six years and for his many contributions and important transformational initiatives during his tenure," Edward A. Kangas, lead independent director at United Technologies, said in a statement.
The company, however, asserted that the decision would not affect its earnings report. Markets also barely reacted to the news. Shares of United Technologies inched down 1.37 percent at closing trade and rose 0.17 percent in after-hours trade.
Chenevert also stepped down from the role of Chairman of United Technologies. He was appointed to both the positions in 2008.
Under Chenevert's watch, the company achieved new highs focusing on aerospace and building systems. United Technologies' acquisition of Goodrich Corp., the world's largest aircraft landing gear manufacturer, was also conducted under Chenevert's tenure. Analysts touted the deal as one of the best in the industry.
Monday's news shocked many. Usually, management transitions at United Technologies are well-synced and flow smoothly. But Chenevert's sudden departure without a word of explanation is an exception.
"This is an unpleasant and unplanned exit, there's no doubt about that. And the board is doing as well as they can to navigate their way through it," Jeffrey Sonnenfeld, senior associate dean at the Yale School of Management, told the Hartford Courant.
"It's pretty antiseptic, cold, crisp," he added.
Analysts told USA Today that Chenevert's decision to leave could be his personal choice because "there are no underlying financial issues, accounting or otherwise, at the company," that could have led to his departure.
The abrupt move has also triggered speculation among experts that the United Technologies' board could be pursuing a split of its aerospace and building systems units.
Old Wine – New Bottle
Gregory J. Hayes has been with United Technologies for about 25 years. He has been serving in the role of senior vice president and Chief Financial officer for the past six years.
"The appointment of Greg Hayes to succeed Louis Chenevert continues the excellent leadership UTC has enjoyed for the past half century," Kangas said in the statement.
"Greg is highly regarded by the Board and by UTC employees, customers and shareowners. We are confident Greg will lead UTC to increasing profitability and shareowner returns."
Hayes said he was honored by the Board's decision to appoint him the CEO.
"Our focus will remain on creating innovative products and solutions for our global customers and delivering best-in-class returns for our shareowners, all supported by our highly skilled and talented workforce," he said.
Hayes and Chenevert were a great team. Nicholas Heymann, an analyst at William Blair, compared the duo to "yin and yang" calling Chenevert the visionary and Hayes the operations man, according to USA Today.