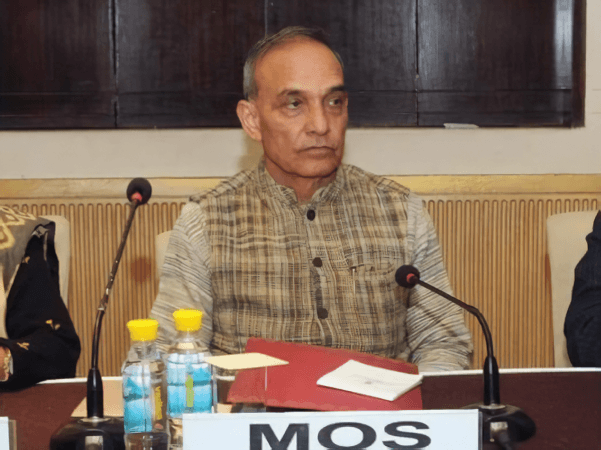 Remember the BJP leader who made that ridiculous statement refuting science as we know it? There are many who come to mind. But the latest one would have to be union minister Satyapal Singh.
A few months ago, he made headlines for claiming that Charles Darwin's theory of evolution was wrong and that it should be eliminated removed from school and college curriculum.
Now, the junior minister in the Human Resource and Development ministry has now once again reaffirmed his stance on Darwin's theory and claimed that his ancestors were not apes, reports Press Trust of India.
While speaking at a book launch on Saturday, June 30, Singh said:
"I am a science student and I have completed my PhD in Chemistry. Who all were the ones speaking against me? And, how many people stood by me? We should be compelled to think. We get scared of the press. If not today, tomorrow. If not tomorrow, then in 10-20 years, people will accept what I said. At least, I believe that my accentors were not apes."
At the same event, Singh also added that nearly 99 percent of the universities in foreign countries "misinterpret and mistranslate" Hinduism.
"I am writing a book... And there will be a chapter on this. We will not take help from any Westerner. We will give validations and documentary evidence, and we will prove what we are saying is right. Did any of our sages ask any professor from England to validate his point?
Singh, a former Mumbai police commissioner, is a Member of Parliament (MP) representing Baghpat constituency, Uttar Pradesh. The Bharatiya Janata Party leader is currently India's Minister of State for Human Resource Development.
On January 20, Singh was at the receiving end of severe criticism when he claimed Charles Darwin was wrong with his theory of evolution because no one had seen an ape turn into a human being.
"Darwin's theory (of evolution) is scientifically wrong. It needs to change in school and college curriculum. Ever since humans came to Earth, they have always been humans," Singh said.
The minister, who has dismissed the work of the father of evolution himself, is responsible for Higher Education in India.
After drawing flak for his comments on Darwin's theory, the BJP minister hit back at his critics and said, "It's not scientific temper to condemn the point of view of another person," the news agency reported.