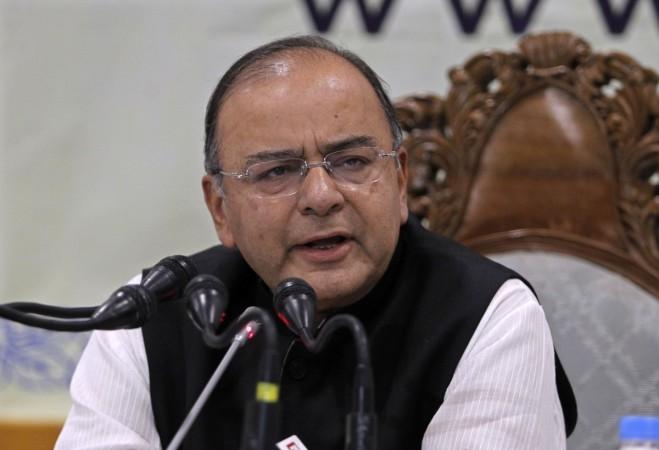 2:38 pm: "The world has renewed its interest in India, we have to respond to that."
2:35 pm: "I wish I could do more for tax-payers but not possible in current situation. I have put more money and more svaings in the hands of the people," he said.
2:30 pm: "No sympathy for cigarettes, pan masala. We can live without them," Jaitley told in an interview with Lok Sabha TV.
2:00 pm: After presenting the Budget, Jaitley told the media that the main objective of the government was to "revive the economy without burdening the common man". Several Opposition leaders, however, slammed the Budget, stating that it lacked a roadmap and that it did not entail bold decisions.
1:13 pm: Jaitley concludes Budget Speech. House adjourned till Friday.
1:07: Service tax - "Changes minimal at this stage. My objective is to broaden tax base."
1:00 pm: Looking out for health? Jaitley makes Cigarettes, Colas costlier - Excise duties increased for tobacco products as well as for aerated sugar drinks. Excise duty on cigarettes hiked from 11 to 72 percent. "These are healthy measures," Jaitley said.
1:00 pm: Excise duty concessions lowered; Jaitley lowered excise duty on food processing from 10 percent to 6 percent
12:50 pm: To boost domestic production of electronic goods, Jaitley announced educational cess on imported electrical products to maintain parity between imported and domestic electronics. Jaitley also lowered custom duties on several industrial products.
12:44 pm: Tax relief not on par with expectations - Jaitley announced a rise in tax exemption limit by ₹50,000, taking the tax exemption cap from ₹2 lakh to ₹2.5 lakh, much below the expectations of the middle class, which at least hoped for exemption up to ₹3 lakh. Jaitley raised tax exemption limit for investment under Section 80C by the same amount to take it ₹1.5 lakh. Similarly, tax exemption on home loans was raised from ₹1 lakh to ₹1.5 lakh.
12: 35 pm: "The issue of displaced Kashmiri migrants a concern for the government, I have allotted ₹500 crore for the purpose," Jaitley said.
12 30 pm: Integrated Ganga Conservation mission announced; ₹2,037 crore alloteed. ₹100 crore announced for river-linking projects.
12:21: Defence Sector boosted - ₹2.59 lakh crore alloted to Defence Sector. Jaitley announces policy of 'One Rank, One Pension'; Modernisation of Armed forces critical, capital outlay of defence increased by ₹5,000 crore, Jaitley said. ₹100 crore to support technological development for Armed Forces. "In order to strengthen border security infrastructure, ₹2,250 crore has been set aside."
12: 19 pm: New Indian Accounting Standards to be compulsory from 2016-17, voluntary between 2015-16.
12:17 pm: Two bank accounts in each household is the aim of the government, Jaitley said.
12:14 pm: Modern Monetary Policy framework necessary for current economy, government will put in place such a framework in consultation with the Reserve Bank of India, says Jaitley.
12:12 pm: "It is my government's intention to promote sustainable mining projects without sacrificing environmental standards," Jaitley said.
12:10: Ultra modern solar power projects with ₹500 crore announced. Scheme for solar-powered agriculture under allotment of ₹400 crore. Additional ₹100 crore for renewable energy across the country
12:08 pm: Air travel still beyond the reach of many Indians. Announces new airports in Tier 1 and Tier 2 cities.
12:06 pm: Jaitley said comprehensive policy to strngethen Indian shipping industry will be announced. Says 16 new projects for shipping ports connectivity are in the pipeline.
12:05 pm: ₹10,000 crore fund for start-up firms
12:00 pm: Jaitley announces National Industrial Corridor with its headquarters in Pune; allots ₹100 crore. Announces to develop 'Industrial Smart Cities; in seven states.
11: 59 am: Jaitley announces an investor-friendly system for e-businesses.
11:53 am: Finance Minister announces a National Market for farmers, asks states to reorient their APMCs. Allots ₹500 crore for the Price Stability Fund to help farmers
11: 52 am: Climate Change a major concern, Jaitley says. Allots ₹100 crore for National Adaptation Fund to address climate change issues.
11:45: Jaitley asks for a five-minute break. House adjourned till 11:50 am. Such a break during the presentation of the Union budget is said to be unprecedented.
11:42 am: Jaitley calls for development of minorties. Allots ₹100 crore for development of Madrassas.
11: 40 am: Jaitley announces plans to develop urban areas in the country. Announces ₹50,000 crore more for infrastructure in urban areas, including transport and sanitation. Allots ₹4,000 crore for the National Housing Bank to give cheaper credits to allow urban poor to have affordable housing. "We have a mission for housing for all by 2022," Jaitley said.
he also annnounced that slum development be taken up by the private sector as part of their CSR initiative.
11:35 am: Education - Jaitley sets aside ₹100 crore for virtual classrooms, Jaitley allots ₹500 crore for five more IITs and five more IIMs in the country.
11:32 am: To strength Health Sector, Jaitley announces Free Drugs Services and Free Diaognostics Services, 4 more AIIMS institutions in AP, West bengal, Maharashtra and Purvanchal and 12 more Government Medical Colleges
11:29 am: Safety of women a major concern, says Jaitley; allots ₹50 crore for safety of women on public trasnport and ₹150 crore for Home Ministry to ensure women's safety in larger cities. Allots ₹100 crore for 'Beti Bachao, Beti padhao Yojana'.
11:25: "We must have an inclusive society for differently-abled," Jaitley says. Announces aids and appliances, centre for disability sports, etc
11:21: "The need for sanitation of utmost importance. By 2019, every household will be covered for sanitation under the Swach Bharat Abhiyan," Jaitley said.
11:21: Skills India Programe to train youth for employability.
11:20 : E-visas to be introduced at nine airports
11: 19: "I have alloted an amount of ₹7,000 crores for 100 Smart Cities."
11:15: Jaitley said the government will promote FDI in select sectors, raise FDI limit in Defence Sector to 49 percent.
11:12 am: "I propose to enable resident tax payers to obtain an advanced ruling in their income tax."
11:10 am: "This government will not bring any change retrospectively. We are committed to provide a stable taxation regime that is investment friendly. All cases arising out of the retrospective amendment of 2012 will be scrutinized by high-level committee."
11:09 am: "We have discussed issues of past ten years and discussed with states about GST. We need to enable implementation of Goods and Service Tax to streamline taxation. I assure the sattes that government will be fair."
11:07 am: "I accept the challenge to limit fiscal deficit at 4.1 percent of the GDP set by the previous government. My roadmap for fiscal consolidation is 3.6 percent for 2015-16 and 3 percent for 2016-17."
11:05 am: "The task before me is challengeing because we need to revive growth in manufacturing sector and investment. We need to introduce fiscal prudence."
11:03 am: "In the first Budget of the NDA government, my aim is to lay down broad policy indicators for the economy. A large population of the country is below poverty line," jaitley said
11:02 am: "Sub 5 percent growth over the last two years has presented a challenge. Slow-decision making by the previous government has slowed down growth. We look to lower the rate of inflation. Continuing global slowdown has posed a threat to sustain economic recovery."
11:00 am : Budget speech begins in Parliament.
10: 45 am: Congress Leader in Lok Sabha Mallikarjun Kharge said it was the duty of the ruling Bharatiya Janata Party to deliver on its promise.
10: 40 am: Cabinet clears Jaitley's Budget.
10:20 am : Union Cabinet Meet begins in Parliament, Jaitley briefs Cabinet on Budget 2014-15, according to India Today
10:15 am: Tracking a firming global trend, the benchmark BSE Sensex on Thursday rose by nearly 75 points in early trade ahead of the Union Budget 2014-15, the press Trust of India reported.
10: 10 am: Growth with employment is the top focus in Budget, says BJP, reported India Today.
9:58 am: Jaitley reaches Parliament for Cabinet Meeting before Budget Session.
9: 40 am: Speculations about the Budget have already begun. NCP leader Tariq Anwar says it will not be pro-poor, while Arvind Virmani, former chief economic advisor to the government, hopes that a good taxation system is put in place.
9:20 am: Jaitley reaches Rashtrapati Bhawan.
8:56 am: Jaitley has reached North Block.
8: 45 am: Finance Minister Arun jaitley leaves for North Block, to deliver speech at 11 am.
The Modi government will present it's first Union Budget today amid high expectations that the inflation will be brought down, growth will be improved and jobs will be created.
All eyes will be on Finance Minister Arun Jaitley who will have to balance harsh policy decisions with bringing down prices and improving the business climate in the country. There are questions whether the government will cater to the growing middle class that largely voted it to power by giving them tax relief and controlled inflation.
₹
₹