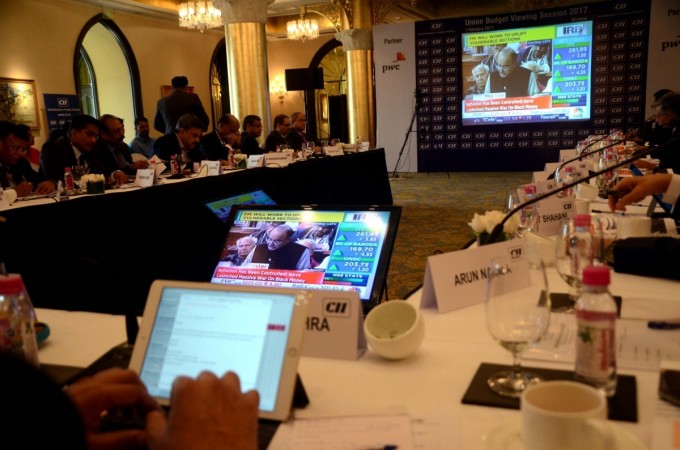 Watched by 24.4 million viewers, finance minister Arun Jaitley's Union Budget 2017 has got a positive response from most bankers, analysts, policymakers, brokerages and ratings agencies, though some have sounded cautious.
Here, we bring you comments and observations made by them even as the stock markets gave thumbs up to the budget for the second day (Thursday), ending with gains of 85 points at 28,226. On Wednesday, the Sensex jumped 485 points to close at 28,141, while NSE Nifty ended 155 points higher at 8,716.
Read: Union Budget 2017 gives 15,500 crore tax relief to individual tax payers
Door open for rate cut by RBI: DBS Bank
The Union budget for FY17/18 (Apr17 to Mar18) adopted a balanced approach between maintaining fiscal discipline and pursuing inclusive growth policies.
The FY17/18 fiscal deficit target was set at 3.2 percent of GDP, a modest deviation from the roadmap's 3 percent. Market borrowings to finance the FY17/18 (referred to as FY18 in rest of the note) deficit were lower-than-expected, helping to cheer bond yields.
With the government committed to fiscal consolidation, and 4Q16-1Q17 CPI inflation well below targets, the Reserve Bank of India might consider a 25bp rate cut at its policy meeting next week. The decision will be a close call. Nominal GDP for FY18 is expected to quicken to 11.8 percent from a revised 10.2% in FY17, and provide some cushion to next year's fiscal ratios.
If the measures are well-executed, Wednesday's budget will boost rural and urban consumption, especially amongst low-income earners. This will provide a respite from the short-term dip in activities following the banknote ban.
No big shocks: Nirmal Bang Institutional Equities
The 2017-18 Union Budget has been workman-like with no big shocks/flourishes. By keeping spending growth low and also keeping the net borrowing number significantly lower than market expectation, it seeks to drive growth by coaxing households and corporates to come out and consume/invest more by borrowing at cheaper interest rates.
Budget math seems reasonably credible, especially in the context that no revenues have been accounted from the new income declaration scheme (Pradhan Mantri Garib Kalyan Yojana), which could be substantial. The latter could give the government some elbow room as estimates on divestment and inflows from small savings schemes may be a bit optimistic.
There were no big shocks that will upset equity investors – no change in capital gains tax, continued focus on fiscal consolidation, no big political sops (except the ones already made by Prime Minister Mr. Narendra Modi on 31 December 2016), no announcement regarding Universal Basic Income plan, focus on a smaller government and ease of doing business (abolishment of Foreign Investment Promotion Board or FIPB) and also focus on a 'less cash' economy.
Good, even if not inspiring: HDFC Securities
Arun Jaitley has yet again delivered an elaborate and meticulous Budget, mostly within stated policies. It laboured more than it inspired. India still awaits a transformative and inspiring follow-through after demonetisation.
Jaitley has scored moderately well across this list. But nowhere has he hit the boundaries that could have brought the audience to its feet in applause. Not one brave new measure cashed in on the mass-support for the politically risky move of demonetisation. The decision to abolish the FIPB and the conscious decision not to increase the number of Central Schemes are confirmations of this Government's rational intent.
While the intent to widen the tax net is commendable, the results may not be easily forthcoming as soon as aspired. We see moderate risk to direct tax collections, and hence, to fiscal discipline (or capital expenditure) as the year progresses. Global factors, as always, will throw in uncertainty.
Prudent, not populist: Nomura
Contrary to expectations of populism in the run-up to state elections and after demonetisation, the government is sticking to its path of fiscal consolidation, albeit at a less aggressive pace: it will narrow its fiscal deficit to 3.2 percent of GDP in FY18 (year-ending March 2018) vs 3.5 percent in FY17.
We think the fiscal assumptions are largely credible. We view the revenue targets as conservative overall, while we see an upside risk to revenue expenditure, which suggests that capex could be cut later if additional revenue from the amnesty scheme does not materialise or if oil prices rise further.
The key message from the budget is that the government has chosen macro stability over growth, despite the pressure to present a populist budget. We see this budget as prudent and popular, but not populist.
Not transformative: India Ratings
The broad theme of the FY18 budget remains on reducing the pain arising out of demonetisation and continuity of focusing on infrastructure and housing. The fiscal deficit target at 3.2 percent of GDP in FY18 is lower than expected and positive for money markets, this will ensure transmission of low rates and benefits to the banking sector.
The reduction in LNG custom duty will boost volumes for companies namely Petronet LNG Ltd. The governments focus on lowering kerosene consumption is positive for upstream companies as zero subsidy sharing is expected in FY18. Adding two strategic crude oil reserves will take the total crude oil capacity in India to 15.33mt and provide additional energy security. Synergistic benefits will flow to the oil public sector companies, as the government proposes to create integrated PSU oil major.
The railways shifting from diesel to solar power will impact diesel consumption, since the railways consume 3.24 percent of diesel in India.
Realistic numbers commendable: Motilal Oswal Securities
It is notable that the government has budgeted realistic to conservative growth in tax collection and avoided inclusion of any windfall receipts from the potential extinguishment of RBI's liabilities due to demonetization, which lends credibility to its receipts estimates.
It was heartening to see the government resisting calls for populist measures. Overall, we believe that the government has tried to make the maximum impact at minimum cost by providing relief to the low-income individual tax payers and reducing corporate tax for small companies - the most affected sections of the society. The government has kept inflationary bias at bay and its realistic math adds to its credibility.
We also believe that a credible and economy-sensitive Budget opens the room for the RBI to deliver a rate cut.
Surprises galore: SBI chairman Arundhati Bhattacharya
As far as new announcements are concerned most of them were unanticipated. The measure to tackle black money such as capping the cash transition limit to Rs 3 lacs and reforms in political funding such as reduction in minimum cash donation to political parties to Rs 2000 and novel ideas like electoral bonds were in the surprise list. These measures are nonetheless a continuation of the demonetization measure.
The abolishing of FIPB is a welcome move as it removes another hurdle in movement of inward FDI. This measure will therefore boost the foreign investors' confidence to invest in India.
Given the general macroeconomic environment, domestic and abroad, the budget has achieved the much needed delicate balancing factor.
Best budget, given the constraints: Angel Broking
Finance Minister has done his level best under the circumstances and the constraints on resources and his capacity to be too liberal with the fiscal deficit.
The Union Budget has made a record allocation of Rs.10,00,000 crore for agricultural credit during the current financial year. This is likely to be a major boost to agriculture and a lot of sectors like agrochemicals, fertilizers, and drip irrigation systems.
The fiscal discipline will ensure to keep bond yields low and also enhance rating of India's external ratings. The commitment to keep revenue deficit at less than 1.9 percent will also be positive for the currency. This will be an indirect benefit for the equity markets in India.