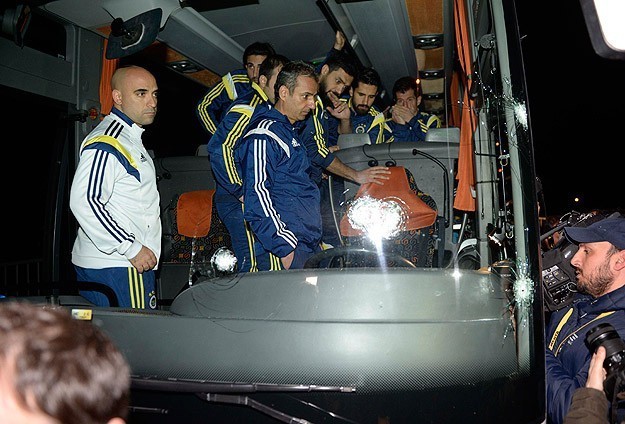 Fenerbahce players and coaching staff were subjected to a lot of trauma on Saturday after their bus was attacked by an unidentified gunman when the squad were heading to the airport in Trabzon following their 5-1 victory over Rizespor in Turkey.
According to Anadolu Agency, a state-run press agency in Turkey, only the driver was wounded as multiple shots were fired at the Fenerbahce bus on Saturday night.
Trabzon governor Abdul Celil Oz had initially suggested that the driver appeared to have been hit by a stone, but he later confirmed that he had indeed suffered a bullet wound. "At first we thought stones had been thrown at the bus but forensic investigators at the scene have concluded that it was an armed attack," said Oz, in a statement released to the media.
"It is too soon to say anything definite, but it appears to be a type of bullet fired by a rifle."
Oz also revealed the driver's life is not in danger despite him sustaining an injury on his face. "There's a metal object in the driver's cheekbone but there is no brain damage and he is in no risk of death," said Oz, according to Anadolu Agency.
According to Fenerbahce TV, after the driver was hit, by what appeared to be an assailant with a shotgun, security officers on board immediately took control of the bus and stopped it, preventing an accident.
Turkey Prime Minister Ahmet Davutoglu, who condemned that attack along with Sports Minister Kilic and the Turkish football federation, has said that an investigation has been started.
Meanwhile, Caykur Rizespor midfielder Ludovic Obraniak was rushed to the hospital with a suspected heart problem after he was substituted during his side clash against Fenerbahce on Saturday.
The 30-year-old Polish national was substituted after only 30 minutes into the game and was taken to the hospital for further tests.
There were initially fears that Obraniak, who is on loan from Bundesliga club Werder Bremen, had suffered a heart attack, but Caykur Rizespor confirmed on social media that the 30-year-old is not in any immediate danger.