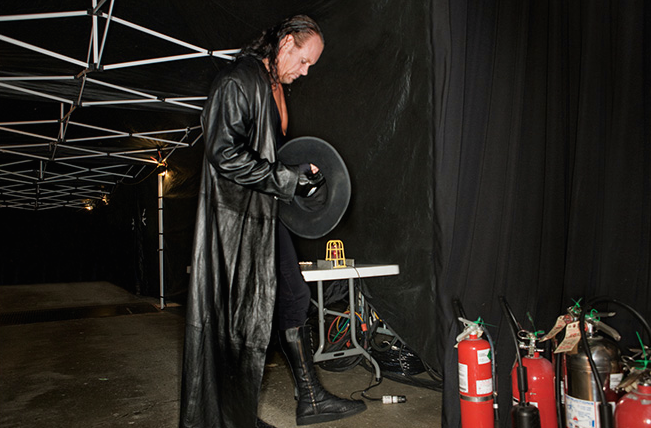 The November 15 edition of WWE SmackDown Live was billed to be an epic one as it was marking the return of the legendary Undertaker, after some months' absence. Post the show, we can happily say that the Undertaker came, saw and gave out a chilling message, like he has usually done over the decades.
The occasion was the 900th episode of WWE SmackDown, taking place at the Mohegan Sun Arena in Pennsylvania. With a landmark episode in place, WWE could not possibly come out with anything more special, but inviting the Undertaker to make an appearance.
Ironically, this was also the final episode of SmackDown Live ahead of Survivor Series 2016, where one of the highly-anticipated matches remains a tag team match among five members of Team Raw and Team SmackDown respectively.
On Tuesday, the arena went dark and the iconic gong announcing the arrival of the Undertaker, rang when WWE veteran Edge was having an in-ring talk show termed the Cutting Edge with Team SmackDown -- comprised of Dean Ambrose, Bray Wyatt, Randy Orton, AJ Styles and Shane McMahon. Team SmackDown mascot James Ellsworth and general manager Daniel Bryan were also present.
The Undertaker and said the two iconic lines: "I'm back!" Well, Arnold Schwarzenegger may have made this phrase famous with his Terminator movie series, but when it comes out from the Undertaker, it gives the same chill.
WrestleMania will no longer define who I am. I'm back, taking souls, and digging holes. Survivor Series [1990] was where the Undertaker was born, and SmackDown has always been my home," said the Undertaker.

"Now, that brings me to the second reason I'm out here. At this year's Survivor Series, there's no reason to fear failure. But if you fail, if you fail, you will have reason to fear the Deadman. Team Raw better rest in peace."
The message may have been sent straight to the Monday Night Raw team for Survivor Series 2016, but the 'phenom' announcing that he is ready for fights even before WrestleMania 33 opens up a various possibility of feuds the Undertaker can engage in now.
Will it be Edge or Randy Orton? The rumour mills are doing the rounds that the Undertaker could be reviving his rivalry with this veteran duo. There is also the chance of seeing the Undertaker feuding with Kane and a returning John Cena or even SmackDown Live commissioner Shane McMahon.